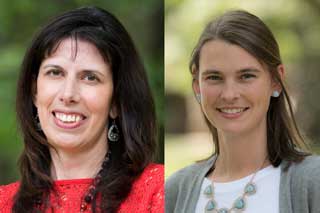 Two members of the University of Pittsburgh at Bradford's staff will be honored during Honors Convocation Friday.
The President's Award for Staff Excellence will be awarded to Christina Marrone, registrar and director of enrollment services, and Kimberly Masone, conference services manager.
Lynette Campogiani, visiting assistant professor of hospitality management, and a member of the staff who wished to remain anonymous nominated Marrone, who has worked at Pitt-Bradford since 1997.
"Throughout her career at Pitt-Bradford, Christina has gone above and beyond to support her staff and accommodate students' needs," the anonymous nominator wrote. "When meeting with students, she is always willing to go one step further in understanding their individual situations and in communicating solutions."
Campogiani wrote in her nomination, "She is one of the most proactive and positive people I know. She remains calm under pressure and sets a great example for other staff members."
Her calm under pressure was tested earlier in the academic year when Marrone's entire staff was unable to work due to illness. "Christina handled all calls and walk-ins, as well as her own duties as registrar," the anonymous nominator said.
Marrone frequently serves on search committees and is a member of the university's COVID-19 mitigation team. She works closely with the financial aid office, where she began her career, eventually rising to the position of assistant director of financial aid before joining the office of enrollment serves as associate registrar. In 2015, she was promoted to registrar and director of enrollment services.
Outside of work, she lives in Bradford with her husband and two sons, one of whom is a student at Pitt-Bradford.
A second anonymous staff member nominated Masone, who has worked at Pitt-Bradford since 2011.
"Kim Masone is a treasure to the Pitt-Bradford community," the nominator wrote, citing Masone's professionalism, attention to detail, and ability to juggle events small and large taking place the next day or a year out.
"Her work sometimes goes unnoticed because she does it so well," they wrote. "Her attention to detail is unprecedented and the contributing factor to hundreds of university-associated events being executed flawlessly. She is one of those employees who is unassuming when it comes to her own work. The truth is that she is greatly respected by the students, her colleagues and her customers for the work she does."
In addition to her work responsibilities, Masone has advised one of the university's most successful clubs, Habitat for Humanity, for more than 10 years, traveling with the students over spring break to support the group's mission of helping to build new communities. Additionally, she is a past assistant coach for the women's basketball team on campus.
Masone came to Pitt-Bradford from the Tamarack Club at Holiday Valley in Ellicottville, N.Y., where she was the front office manager during its opening phase. She lives in Bradford and is a Master Gardener who enjoys time outdoors hiking, camping and skiing.