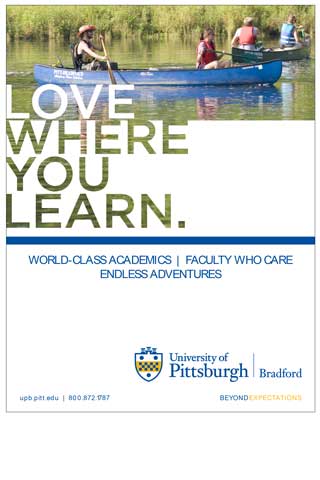 The University of Pittsburgh at Bradford received two national awards for newspaper and outdoor ads in the 37th annual Educational Advertising Awards program, the largest educational advertising awards competition in the United States.
Pitt-Bradford received a Gold Award in the newspaper advertising – series category for a series of print ads that appeared in regional newspapers that included images of students enjoying some of the activities that are unique to Pitt-Bradford, including canoeing on the Allegheny River and fly fishing on the Tunungwant Creek.
The university received a Merit Award in the outdoor category for a billboard located along U.S. Route 219 in Limestone that features a broadcast communications student capturing video at Rock City Park.
Both ads reinforce the idea that Pitt-Bradford students will love where they learn by having access to world-class academics and faculty who care and opportunities to have endless adventures and unforgettable experiences.
Both the ads and the billboard were designed by Mark Zampogna, a 1988 Pitt-Bradford alumnus and owner of Laser Layouts of Bradford.
Judging this year's competition was a national panel of higher education marketers, advertising creative directors, and marketing advertising professionals. The judges reviewed more than 2,000 entries from more than 1,000 colleges, universities and schools from all 50 states and several countries.
Pitt-Bradford has received 23 Educational Advertising Awards since entering the contest four years ago, for many of its communications and marketing projects, including website design, social media content, recruiting materials, and Portraits, the alumni magazine.