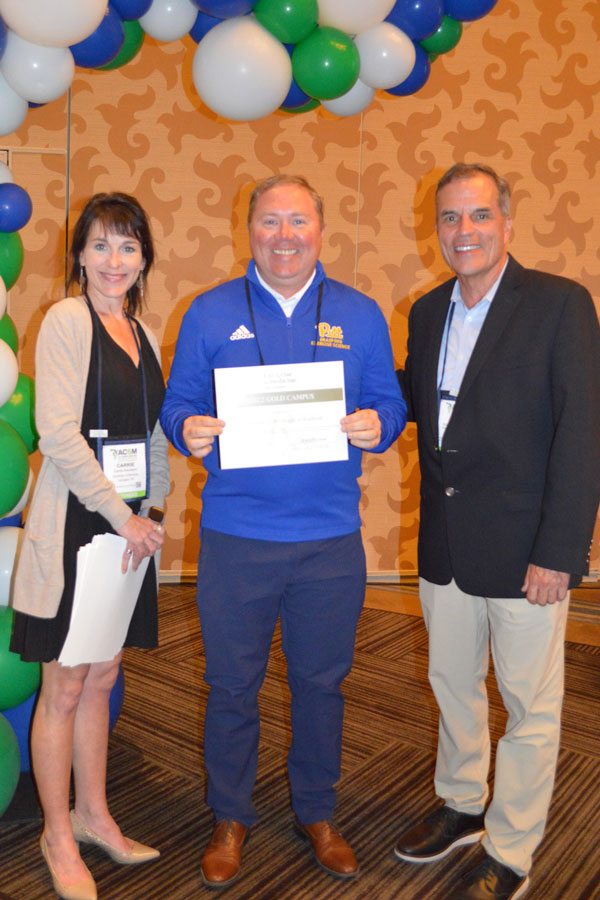 The University of Pittsburgh at Bradford is one of only 156 universities and colleges around the world to be honored by Exercise is Medicine® for its efforts to create a culture of wellness on campus. 
This is the third year that Pitt-Bradford has earned the gold designation.
A number of activities helped Pitt-Bradford earn a gold-level designation from the Exercise is Medicine® On Campus program. These activities include a presentation about the Exercise is Medicine initiative to students across campus and the referral program between Student Health Services and the Exercise Science program.
Virtual classes offered such as a PITT HIT Virtual Fitness Class and Cardio Kickboxing helped achieve gold designation. There is also an Instagram page managed by exercise science interns to provide information regarding Exercise is Medicine. 
"I'm very happy to have received our third straight Gold Level award and our 5th award in total," said Dr. Mark Kelley, director of the exercise science and Exercise is Medicine programs. "The past few years have been challenging with COVID-19, however the resources that the university provides allow Pitt-Bradford to create a culture of wellness for the campus community. I'm hoping to get back to some of our regular activities that we have done in the past including our EIM week and our President and Dean's walk soon."
Kelley accepted the award at the American College of Sports Medicine's annual meeting in San Diego.
The Exercise is Medicine on Campus program has recognized Pitt-Bradford every year since 2017. This year it is one of only 73 universities and colleges around the world to receive gold-level recognition for its efforts. 
Exercise is Medicine on Campus calls upon universities and colleges to promote physical activity as a vital sign of health and encourages faculty, staff and students to work together to improve the health and well-being of the campus community. 
Exercise is Medicine on Campus launched its recognition program in 2014 to honor campuses for their efforts to create a culture of wellness. Schools earn gold, silver or bronze status based on their activities.
Others involved in the Exercise is Medicine on Campus effort at Pitt-Bradford are Zac Stark, Instructor of Exercise Science, Cassandra Preston, Visiting Assistant Professor of Exercise Science, and two student reps, Emily Royea (Class of 2022) and current senior Autumn Deblock.
--30--