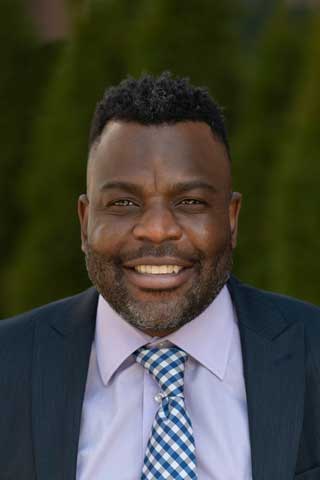 Dr. Jonathan Chitiyo, associate professor of special education at the University of Pittsburgh at Bradford, received the President's Award for Excellence in Teaching, Scholarship and Service during Honors Convocation at Pitt-Bradford on Friday.
Chitiyo serves as the director of the teacher education program, coordinates the early level education program and is director of the first-year experience at Pitt-Bradford, where he has taught since 2016.
Dr. Shailendra Gajanan, professor of economics and a past recipient of the award, nominated Chitiyo for the honor.
"Our campus is fortunate to have an academician like Jonathan Chitiyo within the education program," Gajanan said, citing his work to establish strong partnerships with local schools, share his research with an international audience and contribute to the university community.
Chitiyo often and freely shares his expertise in special education to assist local and state institutions. Most recently, he has served as a board member of the Achieva Family Trust Fund, working with social workers to coordinate services for students with disabilities; provided technical assistance to early childhood educators at The Learning Center in Bradford on the best practices for children with autism spectrum disorders; and served as a member of the Pennsylvania Department of Education Advisory Committee developing special education guidelines for special education K-12 certification.
Locally, he has also provided professional development to early childhood practitioners as part of the McKean County Early Childhood Learning Institute, assisted with curriculum development for the child development career class at Bradford Area High School and involved his Pitt-Bradford students with tutoring in the Bradford YMCA's 21st Century Learning program.
In his native country of Zimbabwe, he has raised funds for the Mlambo Education Foundation.
Chitiyo continues to receive recognition for his scholarship. Last year, he was selected for the American Association of State Colleges and Universities Emerging Leaders Program.
In November, he was the keynote speaker for the GLOBETS (Global Education Technology and Science) International Conference in Antalya, Turkey, where he spoke on "Evidence Based Practices in Schools: What Every Educator Should Know." The conference brings together researchers, policy makers and other school practitioners from across the globe to share their research on ways to improve the learning of all students.
"This was a significant recognition and a perfect testament of how his work is making an impact in his field," Gajanan said.
Also, last fall, he and Dr. Wayne Brinda, associate professor of education, received a University of Pittsburgh Seed Grant to study the effectiveness of a unique reading intervention to help students with reading difficulties.
Chitiyo also serves as the editor of International Journal of Whole Schooling, a highly acclaimed journal that publishes peer-reviewed research in education.
He earned his doctoral degree in special education from Southern Illinois University Carbondale, where he also earned a Master of Science in Education in curriculum and instruction. Additionally, he holds a Bachelor of Arts in environmental studies from Africa University in Zimbabwe.