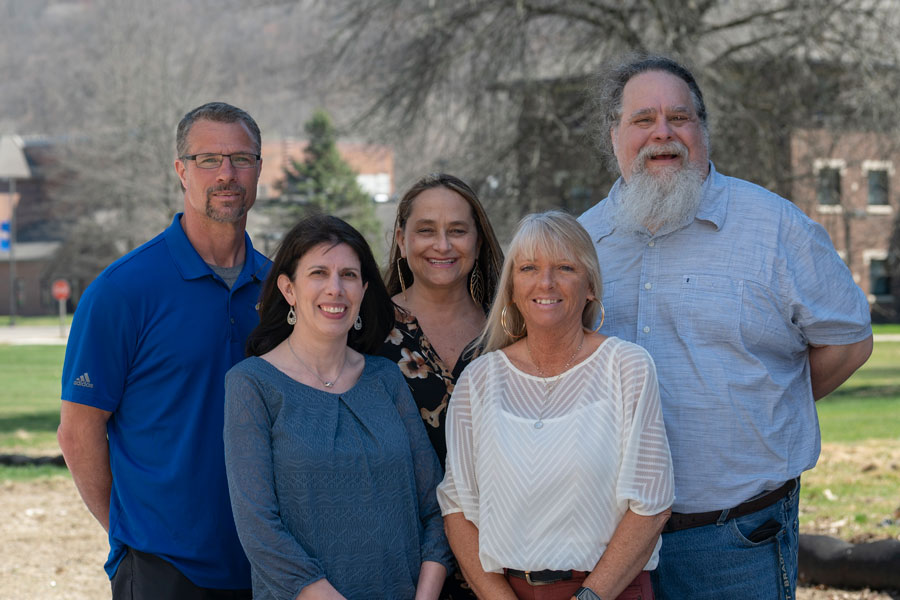 Pitt-Bradford recognized members of its faculty and staff celebrating milestone anniversaries at a special recognition dinner held April 12. 
Leasa A. Maley, assistant director of auxiliary services, was recognized for 35 years of service. In addition to her work in auxiliary services and as former manager of the Panther Shop, Maley is the advisor for the Pitt-Bradford Ski Club. She is also a 2003 graduate of Pitt-Bradford. 
Recognized for 25 years of service were Christina Marrone, registrar and director of enrollment services; Jill M. Race, data entry specialist in the office of admissions; and Janet M. Shade, administrative assistant for the division of physical and computational sciences. 
Faculty and staff recognized for 20 years of service were Dr. Marius Buliga, professor of mathematics; Richard Kahle, facilities and fitness center manager; Dr. Gregory L. Page, associate professor of psychology, and Jeff Valerius, maintenance worker II. 
Those honored for 15 years were Stacey Colosimo, administrative assistant for the Academic Advising and Academic Coaching and Tutoring centers; David A. Dixon, maintenance worker II; Dr. David K. Merwine, associate professor of biology; Gregory W. Miller, network and media systems analyst; Bernie Picklo, interim academic coaching and tutoring center coordinator; Joelle Warner, director of donor relations and stewardship; and Kimberly Marcott Weinberg, assistant director of communications and marketing. 
Employees reaching the 10 years of service mark were Sofia P. Bednez, director of human resources; Lori J. Smith, administrative assistant for academic affairs; Randal D. Stiles, accounting specialist; and Shelley L. Whitman, administrative assistant in the division of communication and the arts. 
Finally, those marking five years of service were Dr. Ching Hsiao "Wes" Chiang, assistant professor of marketing; Matthew D. Hileman, director of the Marilyn Horne Museum and Exhibit Center; Courtney L. Mealy, interim director of arts programming; Donna J. Meister, financial specialist in the office of academic affairs; Dr. Daniel D. Sadowsky, assistant professor of chemistry; Jenifer S. Spencer, database specialist for the Office of Philanthropic and Alumni Engagement; Jennifer D. Swanson, payroll specialist; and Jaime K. Sweet-Taylor, coordinator of user services for computing, telecommunications and user services. 
--30--