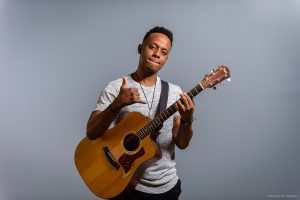 Pitt-Bradford invites the public to attend a variety of performances, talks, lectures and films planned as part of Black History Month activities on campus.
All activities are free and open to the public unless otherwise noted.
On Monday, Feb. 4, the first of four weeks of "Real Talk" discussion sessions will take place at both noon and 9 p.m. in the special dining rooms near the café in the Frame-Westerberg Commons. The topic for the first week is "Pay Discrepancies between Races and Genders."
In following weeks, the topics are "Color Blind Laws Are Not Actually Colorblind," Feb. 11; "African American Community and Mental Health," Feb. 18; and "Women of Color in the House - The Rise of Women of Color in Prominent Politics."
At 8 p.m. Feb. 4, adult alternative pop/rock band Nelly's Echo will play in the Mukaiyama University Room in the Frame-Westerberg Commons. The band plays a steady circuit of colleges, clubs, casinos and private events, such as the Democratic National Convention after-party.
Orin James, instructor of biology, will make several presentations on Black music in Fisher Hall room 205. All presentations begin at 6:30 p.m.
On Feb. 6, he will talk about "Negro Spirituals." On Feb. 20, the topic will be "R&B Music," and on Feb. 27, he will hold a "Hip-Hop and DJ Workshop."
At 7 p.m. Feb. 14, the university will sponsor a free showing of "Sorry to Bother You" at the Main Street Movie House. "Sorry to Bother You" is a 2018 comedy starring Lakeith Stanfield and Tessa Thompson. It is rated R.
Another movie, "Man on Fire," will be shown at 7 p.m. Feb. 15 in the Bromeley Family Theater of Blaisdell Hall. The film is a documentary about a preacher who sets himself on fire to bring attention to racism in a small town. The filmmaker will be on campus to discuss the making of the film during a pre-film talk at 3 p.m. in Blaisdell Hall Room 121.
The month ends with the annual One World Cultural Festival at 6:30 p.m. Feb. 23 in the Frame-Westerberg Commons. The festival is free for students. There is a small fee for those wishing to eat from the international stations.
Other events throughout the month include an "I Love My Hair" program with free haircuts and styling for hair of all types, service at The Friendship Table and Black History Month Jeopardy.
For disability needs related to Black History Month events on campus, contact the Pitt-Bradford Office of Disability Resources at (814)362-7609 or clh71@pitt.edu.