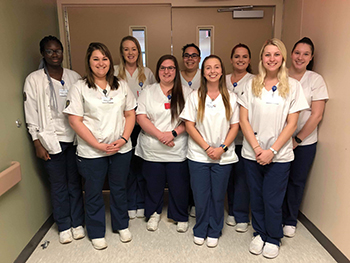 Pitt-Bradford graduates are headed on to further study in fields ranging from public relations to veterinary medicine, while others will begin working in health, technology, business and more.
After placing six seniors in doctoral programs in 2019, the exercise science program will send four more on this year doctoral programs in physical and occupational therapy.
Getting into such programs is highly competitive. According to the Commission on Accreditation in Physical Therapy Education, there are, on average, 500 applicants per program with an average of 44 students enrolled.
Graduating seniors who will pursue a doctorate of physical therapy next year are Kahlee Bowen of Olean, N.Y., University of Pittsburgh, and Justin Fishkin of Bradford and Kiyah Taggert of Eldred, both at Gannon University. Jade Adams of New Bethlehem will study for a doctorate of occupational therapy at Slippery Rock University.
Biology graduates will pursue a variety of graduate degrees and careers. Courtney Shade of Bradford will attend Ohio State's College of Veterinary Medicine. Caitlin Nolan of Scio, N.Y., will pursue a doctorate at the University of Buffalo and Roswell Park Cancer Institute. Lucas Smith of Lewis Run will study to become a doctor of osteopathic medicine at Lake Erie College of Osteopathic Medicine. Karman Masown of Upper St. Clair is headed to dental school.
Victoria Ogundayo of Bradford will work toward a master's degree in kinesiology and health studies at Queens University in Canada. Michael Thomas of Columbus will study for master's degrees in public healthcare and healthcare administration at Pitt.
Other biology graduates will enter the workforce. Brittany Adedinsewo of Pottstown will be a medical scribe at Jefferson Hospital. Hunter Chamberlain of Andover, N.Y., will be an assistant radiographer with U.S. Inspection Services Inc.
Pitt-Bradford nurses will begin working with patients at Penn Highlands DuBois ,Jasmine Adams of New Bethlehem and Andrea Allegretto and Brianna Cardoni, both of Johnsonburg; J.C. Blair Memorial Hospital, Tiara Hood of Huntingdon; Bradford Regional Medical Center, Kirstin Lekas and Laura Tingley, both of Bradford; Warren General Hospital, Chelsea Loney of Warren; UPMC Cole, Nicole Nolte of Smethport and Jefferson Stehle of Port Allegany.
Radiological science graduate Amanda Hollabaugh of Townville will also work in a medical setting at Titusville Area Hospital.
Some students will head into the business world. Joseph Adcock, an economics major from East Amherst, N.Y., will join the U.S. Army Reserve in civil affairs while working on his Master of Business Administration at St. Bonaventure University.
Destiny Fitton, an accounting and business management major from Bradford, will be an accounting assistant with Allegheny Bradford Corp.; Katelyn Hayden, a business management major from Derrick City, will join human relations at BRMC; Alexis Hoak, a sociology major from Warren, will be a legal assistant with Schoenborn & Associates, LLC;
Accounting and business management graduates Rylee Lundgren of Lewis Run and Christopher Plate of Seneca Falls, N.Y., will study for a Master of Business Administration in professional accountancy at St. Bonaventure; and Scott Pattison, a business management major from Bradford will be a client associate with RBC Wealth Management.
Several computer information systems and technology graduates already have plans for post-graduation. Joel Austin of Sewickley will pursue a master's in information systems at Pitt; December graduate Beyleigh Duda is working in information technology at Seneca Gaming Corp; Wesley Dugan of New Columbia is an operations engineer with Verizon Media Services (formerly Yahoo);
Zhongtian Hu is a technical engineer with Microsoft in his home country of China; December graduate Michael Skaggs of Bradford is a technical solution analyst with Cerner, a healthcare solutions company, in Kansas City, Mo.; and Noah Warns of Sylvania, Ohio, will be an operations assistant with Kiemle-Hankins, an industrial maintenance company.
Two graduates will be studying for a Master of Science in public relations -- Maya Bingaman, an international studies major from Stevens, at Syracuse (N.Y.) University and Sadie D'Angelo, a broadcast communications major from Ashville, N.Y., at Indiana (Ind.) University.
Kaitlyn Geyer, a criminal justice major from Marienville, will pursue a master's degree in criminal justice at Slippery Rock University. Kaitlin Mock, a psychology major from Hanover, will study for a Master of Education in the School of Counseling at Millersville University.
Kenneth Reilly, a history-political science major from Brooklyn, N.Y., will work toward a Master of Public Administration at Pitt. Bethany Schumann, a sociology major from Warren, will pursue a Master of Social Work at Edinboro University.
Others joining the workforce include Nolan Brisbee, an environmental studies major from Bradford, who will work as a canvasser with the Fund for the Public Interest. Matthew Dennis, a triple major in engineering science, energy science and technology, and environmental studies from Bradford, will work at American Refining Group; Katherine Hallett, a hospitality management major from Jamestown, N.Y., will work at the Athenaeum Hotel at Chautauqua (N.Y.) Institution; and Jeffrey Rook, a hospitality management major from Kane will be a coordinator at Walt Disney World.