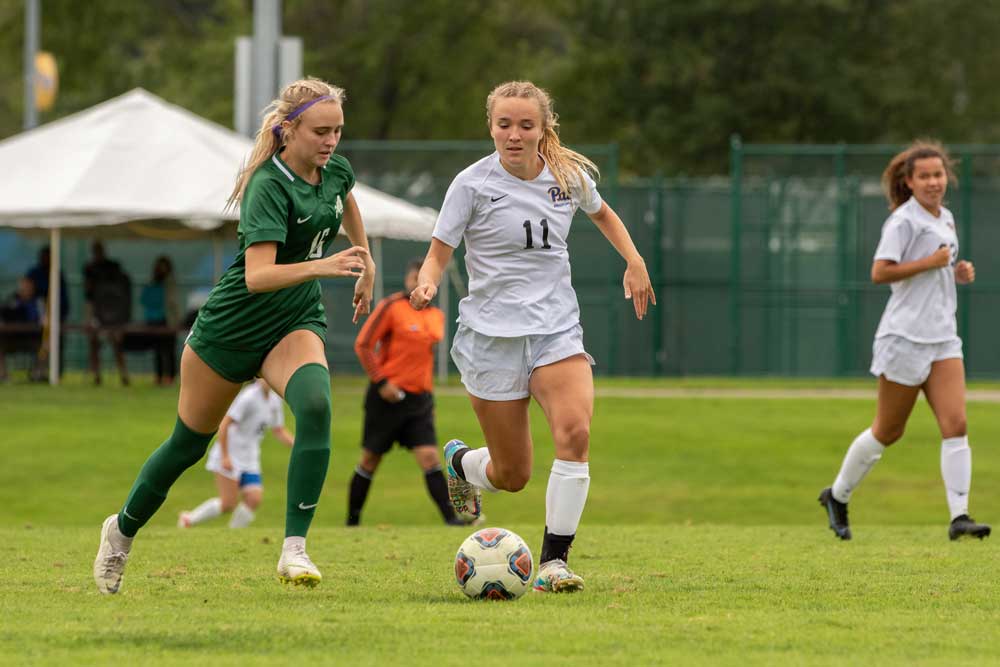 For the first time in two years, University of Pittsburgh at Bradford graduates will cross a stage Sunday afternoon and receive their diplomas in the KOA Arena on campus. They will be joined by a few students from the Class of 2021, who graduated in an outdoor drive-by ceremony last year, and the Class of 2020, who had an online graduation shortly after in-person classes were suspended due to COVID-19.
It should be an extra joyous occasion for the 221 students graduating, particularly those who have already secured jobs or places in graduate school.
Two biology majors from the Class of 2022 will attend medical school. Olubumi Braimah of Liberal, Kan., will return to his home state to attend the University of Kansas School of Medicine. David Ajiri of Bensalem will attend medical school at the Lewis Katz School of Medicine at Temple University.
Lauren Williams, a biology major from Pine City, N.Y., was accepted into Marywood University's physician assistant program in Scranton, which she will begin at the end of May.
Other biology majors are headed directly into the world of work.
Hannah Mohacey of Chalfont will be a laboratory technician with NMS Labs in Horsham. Kassandra Dawson-Sepulveda of DuBois will be an emergency medical technician at Penn Highlands Medical Center in DuBois.
Aaron Stoddard of Bradford will work as a certified nursing assistant at Shippenville Nursing and Rehabilitation while pursuing a master's degree in education at Clarion University.
Dozens of other students will work in medical fields, including many nursing graduates. All of the 26 students earning an Associate of Science in Nursing have either accepted a position or plan to continue in a Bachelor of Science in Nursing program, and Pitt-Bradford's eight Bachelor of Science in Nursing graduates all accepted jobs.
Five exercise science majors are moving on to pursue further education: Both Katherine Anderton of Elizabethtown and Shayla Ransome of Allentown are headed to Austin, Texas, where they will both be working toward a doctoral degree in occupational therapy at the University of St. Augustine School of Health Sciences; meanwhile, Karla Vela of Loredo, Texas, will be working toward a doctorate in occupational therapy at the University of St. Augustine School of Health Sciences' Dallas campus. Isaac Gralak, an exercise science major from Bradford, will pursue a doctorate in physical therapy at Gannon University's Ruskin, Fla., campus. Sydni Keesler of Bradford will attend St. Bonaventure University to earn a master's degree in occupational therapy.
Emily Bethel, an athletic training major from Martinsburg, W.Va., will attend Salem University in Salem, W.Va., where she will pursue a master's degree in health and human performance while working as a graduate assistant athletic trainer on campus.
A handful of exercise science graduates will begin working with clients immediately: Kaitlyn Case of Windsor will be a physical therapy technician with Drayer Physical Therapy in York; Jack Leinhauser of Narbeth will be a physical therapy aide with ATI Physical Therapy; Christopher Troll of Somerset will be a strength and conditioning coach with Nervous System Training in Canton, Ohio; and Seth Walker of Three Springs will be a personal trainer at Path Valley Fitness LLC in Path Valley.
Like other areas of health care, some psychology majors will begin graduate school and others will begin working right away. Kellen Gaither of Cincinnati will pursue a doctoral degree in occupational therapy at Xavier University in her hometown. Jarod Chaffee of Fairport, N.Y., will enter the Master of Social Work program at Boston University in Massachusetts with an eye toward counseling work. Danielle Tyger of Custer City is going to the University of Houston-Victoria (Texas) to earn a master's degree in forensic psychology. Ronisha Polen of Philadelphia will be working as a behavioral health technician at Child Crisis Center in Philadelphia. Taylor Samuelson of Bemus Point, N.Y., will be working as a mobile transitional peer specialist with Recovery Options Made Easy Inc. in Gowanda, N.Y.
Madison Sera, a radiological science major from Bradford, will be an X-ray technician at Bradford Regional Medical Center.
Outside of the health fields, several students will begin jobs in the world of business. Emily Hodge, an accounting and business management major from Philadelphia will be an international tax associate with BDO in Philadelphia. Brianna Goodell, a sociology major from Smethport, will be an insurance representative with State Farm in Olean, N.Y.; Matthew Kwiatkowski, an accounting major from Olean, N.Y., has taken a job as a credit underwriter at Community Bank in Olean, N.Y.; Kelly Smith, an accounting and business management major from Pottstown, will be a junior financial advisor with Equitable Advisors in New York, N.Y. Business management graduate Hunter Sostakowski of Rew is pursuing his Master of Business Administration at St. Bonaventure University.
History-political science majors whose plans are set include Cory Anastasia of Olean, N.Y., who is pursuing a doctoral degree in political science at the University of Buffalo (N.Y.)
Shakira Jackson of Philadelphia will pursue a dual degree from Georgetown University in Washington, D.C. She will study for both a law degree and a Master of Arts in democracy and governance. She was one of three students to earn a Democracy and Governance Academic Research Scholarship at Georgetown, which was based on her history-political science capstone work at Pitt-Bradford.
Applied mathematics and economics major Joseph Bernazzoli of Pittsburgh will attend Penn State for a master's degree in applied statistics.
Among those graduating with degrees in computer information science and technology are two students who have already committed to jobs.
Drayson Sanders of Ulster will be a full-time technology consultant with CapGemini in New York City. Logan White of Erie will begin working this summer as a federal associate consultant at VMWare. Travis Gleason, an information systems major, will work in information technology at Zippo Manufacturing Co.
A new cadre of educators will head into the field. Gabrielle Fogg, an early-level education preK-4 major from Morrisville, will be the assistant center director at The Learning Experience childcare center in Philadelphia. Emily Treat, an early level education preK-4 major from Cyclone, will be a teacher at George G. Blaisdell Elementary School in Bradford. Additionally, she will work toward a master's degree in curriculum and instruction from Gannon University in Erie. Jacob Sheldon, a health and physical education major from Bradford, will be a health and physical education teacher at Bradford Area High School. Zandra Sweeney, a business education and business management K-12 major from Kane, will teach at Kane Middle School. Emily Cleveland, a health and physical education major from Winchester, Va., will be an intern with Disney in Orlando, Fla., before seeking fulltime employment.
Criminal justice major Lucas McQuain of Hershey will be a probation officer with Lebanon County Probation. Carly Keenan, a criminal justice major from Allegany, N.Y., will be a security professional at St. Bonaventure University.
And Jack Kellam, a petroleum technology and environmental studies major from Bradford, may begin life after commencement the farthest away – he has accepted a position with a refinery in Fairbanks, Alaska.
--30--