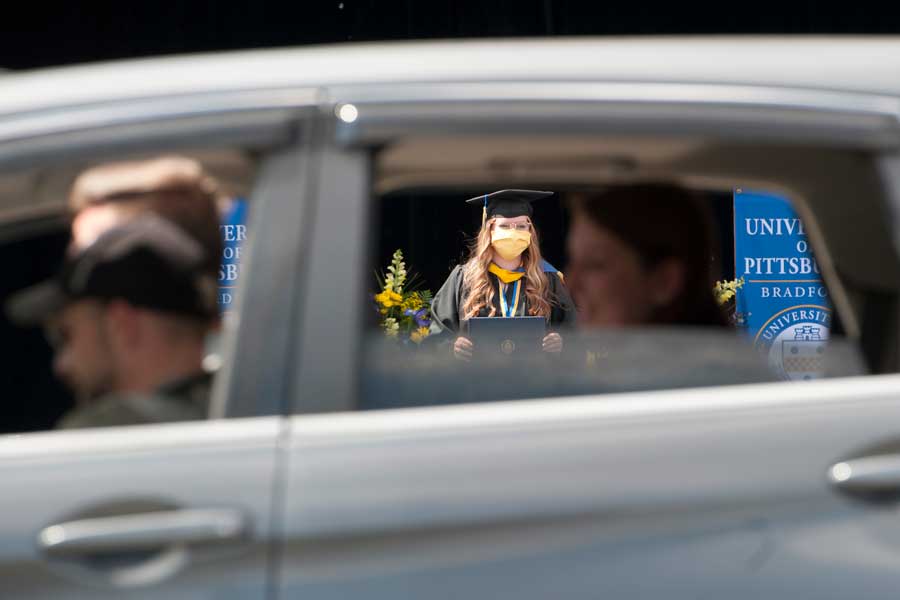 Once they leave the University of Pittsburgh at Bradford Sunday, graduates will flex their new skills in graduate schools and the world of work. Those attending graduate schools will study public policy, history, sociology, physical and occupational therapy, criminal justice, veterinary medicine, medicine and pharmacy.
Elizabeth Johnson, an economics, history-political science and international affairs triple major from Dover, will pursue a Master of Arts degree in public policy at Georgetown University on a scholarship covering half of her tuition.
Hayley Madl, a history-political science major from Beaver, will be working toward a doctoral degree in history at George Mason University on a Presidential Fellowship.
Ezoza Ismailova, a history-political science and international affairs student from Towanda, will attend Syracuse University on a scholarship beginning this summer to pursue a master's degree in public diplomacy and global communications.
Miles Davis-Matthews, a history-political science and international affairs major from Washington, D.C., will attend Kent State University to study sociology with full funding and a graduate assistantship.
Those pursuing a doctor of physical therapy include Alexandra Paniagua, an exercise science major from Lancaster, who looks forward to expanding her knowledge of physical therapy at Drexel University and to someday treating underserved communities and those with chronic illness. Other doctor of physical therapy students are Katie Keller, an exercise science major from Wrightsville, Thomas Jefferson University; Jessica Milliron, an exercise science major from Morrisdale, Chatham University; and Kamryn Piscitelli, an exercise science major from Bradford, D'Youville College.
Elizabeth Harvey will pursue a doctor of occupational therapy degree and work as a rehabilitation technologist at Johns Hopkins Medical Center.
In the health fields, Laura Hildebrand, an exercise science major from State College, will attend Lake Erie College of Osteopathic Medicine to study medicine. Kayla Bush, a biology major from Kane, will also attend LECOM to study pharmacy.
Haley Tuller, a biology major from Warren, will attend Lincoln Memorial University College of Veterinary Medicine in pursuit of a Doctor of Veterinary Medicine degree. She hopes to eventually own her own clinic and work with small and exotic animals and wildlife.
Kamil Collazo, a December history-political science graduate from Philadelphia, is headed to St. Joseph's University in the fall to pursue a master's degree in criminal justice and work toward a paralegal certification. She is currently working full time as a housing manager for Human Good in Wilmington, Del.
Among those headed into the work world are several are nurses graduating from the campus's Associate of Science in Nursing program.
Lauren Gentile will work as a registered nurse at Penn Highlands Elk; Hannah Lathrop and Sarah Wahl will be a nurses with UPMC Cole in Coudersport; Kimberly Wonderly will be a nurse supervisor at the Lutheran Home at Kane; Doris Zuchowski will be a day shift supervisor in the Penn Highlands DuBois emergency room; and Mackenzie Hartle and Hannah Hibbs will return to Pitt-Bradford to work toward their Bachelor of Science in Nursing degrees. Lathrop also plans to pursue her BSN while working at UPMC Cole.
December graduate Ellery Signor, who majored in biology and is from Bradford, is working as a microbiologist at Envera, a small biotech company in West Chester that works on environmental problems.
From the technology world, Ben Koss, a computer information systems and technology student from Kersey, will work with the applications team in the information technology department at Zippo Manufacturing Co.
In the business realm, Robert Brown, an accounting and business management major from Washington, D.C., has an internship with Baker Tilly, an advisory, tax and assurance firm, while he studies for the CPA exam, and Bernice Baker will be an insurance representative.