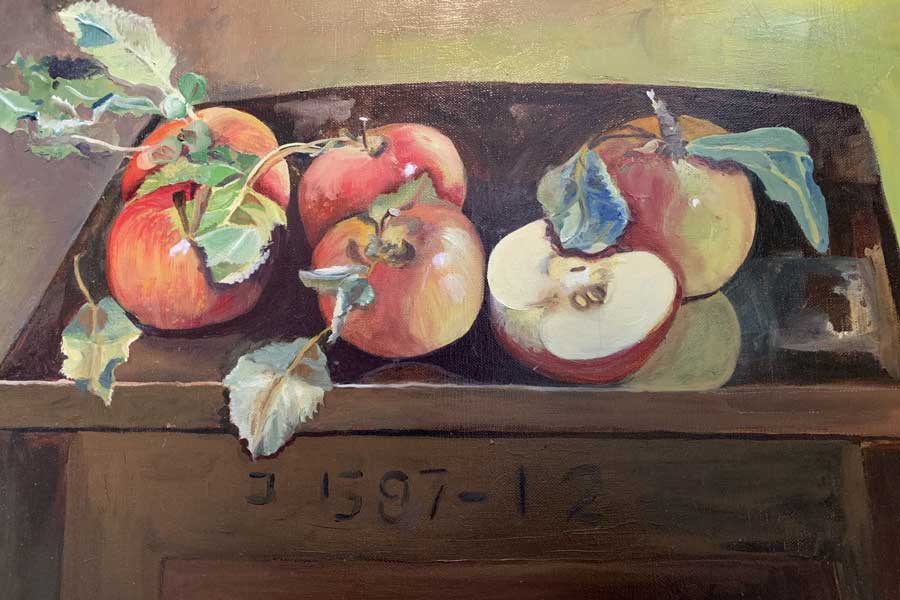 As a young adult, Lynn Heckathorn painted at home while trying to learn more about art through television programs, that is until her late husband, Stanley, talked her into taking classes at his workplace, the University of Pittsburgh at Bradford.
Heckathorn followed her husband's advice and eventually enrolled in classes taught by Elga Dzirkalis. The classes, which spanned a wide range of media, prepared Heckathorn for a lengthy, successful career in watercolors and oils.
Heckathorn '78-'86 will kick off an art show titled "360: A Retrospective, Artwork by Lynn Heckathorn" with a reception from noon to 2 p.m. Sep 24 at the KOA Art Gallery in Blaisdell Hall as part of events planned for the university's Alumni and Family Weekend. The exhibition, which is sponsored by Pitt-Bradford Arts, runs until Friday, Oct. 14.
The veteran artist shared thoughts on a career that was nurtured under the guidance of Dzirkalis who taught her all aspects of art.
Looking back, Heckathorn said Dzirkalis, now retired, was an astounding teacher.
"Elga was my go-to girl, she was just amazing," Heckathorn recalled. "I took every class I could … anything to do with art. If Elga taught it, I was there. I loved it."
Dzirkalis had a propensity for the watercolors genre and passed this interest along to Heckathorn.
"She was basically into watercolors, and therefore I just fell in love with watercolors," Heckathorn said. "I kept taking oil painting classes, as well; there will be oil paintings in this show, too."
Heckathorn noted the watercolor techniques she learned from Dzirkalis were very helpful.
"You have to know what you're doing with watercolors because you can't make a mistake," she explained. "It's very difficult to clean up a mistake. With oils you can go over the whole thing and start over again."
Heckathorn's technique involves painting watercolor paint on a dry surface, which gives her more control over the piece, as opposed to the "wet on wet" paint method.
Dzirkalis said it has been a pleasure for her "to watch the blossoming of Lynn throughout the years."
"She had raw talent from the very beginning, and I was happy to encourage her growth as an artist," Dzirkalis said. "Throughout the time she studied with me, she created some beautiful watercolor paintings, especially of flowers that had such fluidity and delicacy of color and tone. One of her floral paintings was purchased by the university."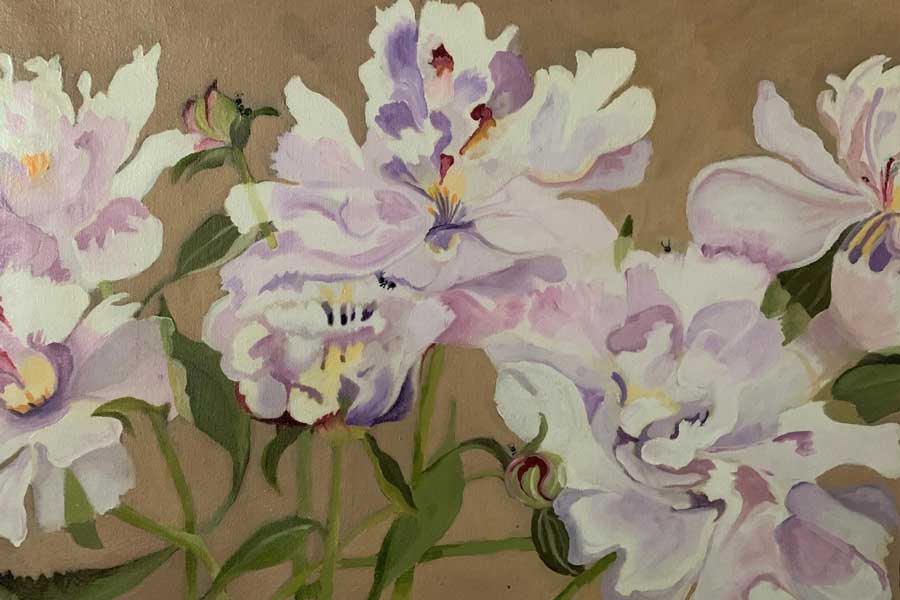 Dzirkalis said she had been especially pleased years ago when she learned that Heckathorn had been accepted into the summer programs at Chautauqua (N.Y.) Institution to continue her art studies.
"I was happiest when she told me that she was taking workshops in Italy to further nurture her talent," Dzirkalis said of another past program taken by Heckathorn. "She is a very special talented artist, and I have enjoyed working with her and following her artistic growth. I congratulate her on the opening of her exhibition at Pitt!"
Heckathorn noted her body of work is mostly figures and landscapes. Through the years, she has displayed her paintings in numerous art shows.
"There's one painting of an Italian grandmother with a cat," she remarked. "I did that when I was in Italy."
She had seen an elderly woman and cat and tried to ask the Italian if she could take her picture. As there were difficulties with communication, Heckathorn decided to take the woman's picture anyway. She is happy she did as her painted version of the woman is one of her favorite pieces. Similarly, she painted a shepherd whom she encountered during her travels through Greece.
"He had sheep around him, so I took a picture of him" as he paused for the photo, she added.
Another of her favorite paintings was inspired during a tour bus ride in Greece. "A man and a dog were in a window, and it was just the coolest thing, so I took his picture," she said. "I've (painted) it a couple of times" with the original owned by a prominent family in New Hampshire. The second painting of this scene will be in the upcoming art show.
The show will display Heckathorn's paintings in chronological order from the 1960s to present.
The paintings will be for sale with part of the proceeds to benefit a Pitt-Bradford scholarship established in Stanley Heckathorn's memory.
Heckathorn admits she has gone through years where she did not paint for various reasons. For example, after moving to Pittsburgh from New Hampshire, she and her husband lived in an apartment for a year that had no room for a studio.
Other years, however, have been quite fruitful. "2002 was the most work I've ever done," she said. "That was oils and watercolors. I was painting every day."
Heckathorn currently lives in the Mount Washington area of Pittsburgh near her daughter, Debi Delach, son-in-law, Greg, and granddaughter, Elizabeth, 11. Her family plans to attend the opening of the show, which comprises more than 100 paintings and miniatures.
Delach, who attended Pitt-Bradford and graduated in 1996, said she enjoys the bounty of her mother's beautiful art, as she has several pieces in her home.
"Unfortunately, I did not inherit her talent," Delach said with a chuckle. "We have some of her pieces packed up in my house to bring up for the show. Some of them are coming, so I'm going to have some blank walls."
Delach, who is a manager with an insurance group, said her mother has been very prolific in creating new art pieces over the past year.
"I'm very glad she can fill her time with something so great," she said.
The KOA Art Gallery hours are Monday through Friday 8:30 a.m. to 5 p.m. or by appointment by emailing Courtney Mealy at cmealy@pitt.edu. For more information about additional Pitt-Bradford Arts events, visit upb.pitt.edu/TheArts.
--30--