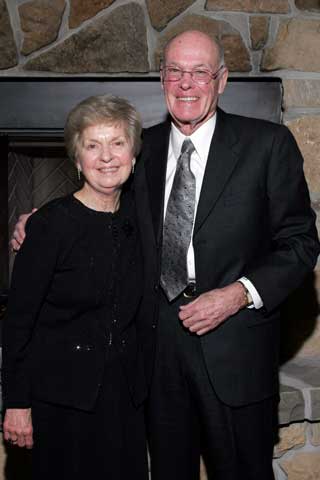 The new engineering technology programs at the University of Pittsburgh at Bradford will be part of the newly named KOA Engineering Technology Department, named to honor Lester Rice, chairman emeritus and former CEO of KOA Speer Electronics Inc.
"I cannot emphasize enough Lester Rice's longtime and very generous support of Pitt-Bradford and his laser-focused commitment to our developing four-year engineering technology programs," said Rick Esch, Pitt-Bradford's interim president. "He spent decades – literally decades – as the programs' champion, and we are proud to name this new department in his honor."
The newly named department will include the new mechanical engineering technology and energy engineering technology majors, which will be offered for the first time this fall, as well as any additional engineering technology-related programs that are developed in the future.
A plaque, designating the new department and Rice's support of and significant contributions to the programs, will be prominently displayed in the new George B. Duke Engineering and Information Technologies Building, which is currently under construction and will open in the fall.
"It's important that everyone who enters the Duke Building, including future generations of engineering technology students, knows of Les's unparalleled generosity and commitment to these programs," Esch said. "Les was adamant about Pitt-Bradford having an engineering program and did everything he could to advance it."
Rice's strong advocacy for engineering at Pitt-Bradford was born, in part, out of the professional path he chose. Rice, who held a Bachelor of Science in electrical engineering, dedicated his entire career to the electronics industry.
After serving in the U.S. Navy, he earned his degree from the University of Michigan in 1955 and started his career at Westinghouse Corp. After 16 years at Westinghouse, he joined Airco Speer in St. Marys. In 1980, the U.S. operations merged with KOA Corp., and KOA Speer Electronics was established in Bradford.
As an engineer and someone who cared deeply about his community, Rice also knew that well-prepared graduates from engineering programs at Pitt-Bradford would have a significant impact on businesses and industries in the region.
Rice channeled his passion for and knowledge of engineering to become one of Pitt-Bradford's earliest and most fervent engineering program advocates. And, as KOA Speer's president, CEO and chairman, he established a corporate culture of philanthropy that continues to thrive, nearly seven years after his death in June 2015.
Rice's longtime support of Pitt-Bradford extended beyond engineering technology.
He and his wife, Barbara, along with KOA Speer have generously supported many other projects and initiatives on campus, including the renovation and expansion of the Frame-Westerberg Commons and the Richard E. and Ruth McDowell Sport and Fitness Center.
Evidence of that philanthropy can be seen from one end of campus to the other: the Lester and Barbara Rice House, Rice Auditorium in Fisher Hall, the KOA Dining Room and the Mukaiyama University Room in the Commons, the KOA Art Gallery and the KOA Speer Electronics Lobby in Blaisdell Hall, and the KOA Arena in the Sport and Fitness Center.
In addition to his financial support, Rice served on Pitt-Bradford's Advisory Board and its executive committee. In 1997, he was awarded the Presidential Medal of Distinction, Pitt-Bradford's highest honor.
According to Rice's sons, Scott, Tim and Jeff, their father's focus was working with KOA Speer to benefit Pitt-Bradford and the community.
"It's a shame he couldn't see the realization of his dream for Pitt-Bradford to offer engineering programs," Scott Rice said.