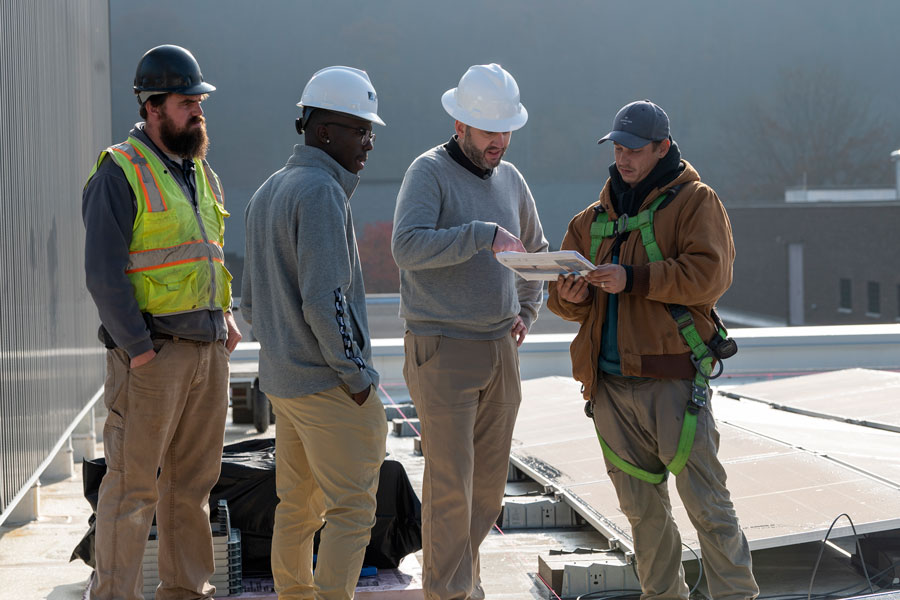 Dr. Matthew Kropf, associate professor of engineering technology at the University of Pittsburgh at Bradford, received the President's Award for Excellence in Teaching, Scholarship and Service during Honors Convocation at Pitt-Bradford on Friday.   
In addition to his teaching duties, Kropf is director of the Harry R. Halloran Jr./ARG Energy Institute, founding director of the engineering technology and energy programs and president of the faculty senate.   
Kropf is the architect of two new four-year engineering technology programs that began enrolling students last fall. He consulted with architects designing the programs' new home, the George B. Duke Engineering and Information Technologies Building, served on hiring committees for the required faculty and staff, wrote the specifications for the needed equipment, made himself available for recruiting and fundraising, and agreed to serve as the program director for both the new engineering programs in addition to the energy science and technology major.   
"Dr. Kropf is not only committed to helping his students succeed but also to ensuring the viability of Pitt-Bradford and this region," Richard Esch, president of Pitt-Bradford, said when presenting the award.
Kropf regularly works with students on their research and was able to incorporate lessons from the real-life engineering going on at the Duke Building into his teaching.
During the fall of 2021, he served as one of the faculty mentors for the Appalachian Teaching Project at Pitt-Bradford, during which students mapped out trails on the university's new Quintuple Mountain property.
As far as scholarship goes, during the 2019-2020 academic year, Dr. Kropf saw one of his patents become a manufacturing reality with the creation of AE Resources Inc., a Mount Jewett company that creates biodiesel fuel in a small refinery on the property of the Bradford Regional Airport using a process Kropf patented that uses microwaves instead of hazardous catalysts.
In addition to his development of new programs and scholarship, Kropf does a remarkable amount of service to the university, chairing the campus sustainability committee, writing a successful grant that funded the installation of solar panels atop the Duke Building, and serving on the committee that developed the University of Pittsburgh Sustainability Plan.
In his free time, Kropf enjoys outdoor pursuits, including skiing, back-country hiking, mountain biking and mountaineering.
Previous recipients of the award include Dr. Jonathan Chitiyo, associate professor of special education; Dr. Yong-Zhuo Chen, professor of mathematics; and Dr. Nancy McCabe, professor of writing.
--30--