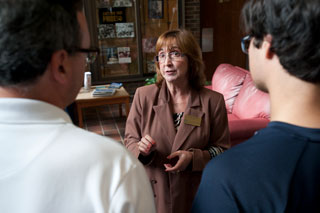 Mail carrier Donny Johnson and Associate Director of Admissions Vicky Pingie, two of the University of Pittsburgh at Bradford's longest-serving staff members, retired in the fall of 2020 with 40 years of service to the Bradford campus.
A few other longtime staff members retired as well, taking advantage of an incentive offered by the university as part of cost-cutting measures during the coronavirus pandemic.
Johnson delivered mail and news to campus twice daily. His devotion to Pitt-Bradford sports earned him a place in the campus's Athletic Hall of Fame and served as the inspiration for the Donny Johnson Athletic Endowment to support Pitt-Bradford athletes.
In 2006, he was honored by the University of Pittsburgh and then-Chancellor Mark Nordenberg with the Chancellor's Award for Staff Excellence in Service to the Community. 
In addition to volunteering with Pitt-Bradford athletics, which he plans to continue, Johnson has volunteered with Bradford High booster groups; is a track coach for the McKean County Special Olympics; participates annually in the American Cancer Society's Relay for Life with the staff team, The Pitt Crew; and dances and jokes with Bradford's annual charity fundraising talent show, the Kiwanis Kapers.
Pingie '93 came to Pitt-Bradford in 1980, working as an administrative assistant in human resources until she earned her bachelor's degree from Pitt-Bradford in human relations, when she joined the admissions team.
Pingie coordinated all on- and off-campus events along with the Student Ambassador program. She counseled and advised high school students in the university's Bridges program, which allows talented local students to begin taking college courses on campus while they're still in high school.
Pingie was well known in the university's primary service region, traveling and representing Pitt-Bradford at high schools in McKean, Warren, Elk, Potter, Cameron, Forest and Tioga counties in Pennsylvania and Chautauqua, Cattaraugus, Allegany and Steuben counties in New York state.
Several others retired from Pitt-Bradford in 2020 as well.
Barbara Uscinski, administrative assistant in the office of the president, retired after 22 years at Pitt-Bradford. Her tasks in the president's office included organizing large events for faculty, staff and donors, which gave her artistic abilities and decorator's flair a chance to shine. Before coming to the president's office, she had worked in the registrar's office.
Dr. Leslie Rhinehart retired after 20 years of serving as the director of counseling services at Pitt-Bradford, where she has also taught psychology courses. She placed a high priority on offering a friendly and professional environment in which students could discuss problems in a safe, confidential manner.
Klaus Wuersig, assistant professor of engineering, retired after teaching at Pitt-Bradford for 20 years. Wuersig came to Pitt-Bradford after retiring in 1998 as a full professor from SUNY-Alfred. From 1998 to 2000, he and other experts set up programs in information technology, math and science at a new university for women in Dubai, United Arab Emirates.
Others retiring this fall were Dianna Beaver, acquisitions and special collections specialist for Hanley Library, with 15 years; Judy Cameron, administrative assistant for academic support areas, 15 years; Jean Luciano, interlibrary loan and cataloguing specialist at Hanley Library, with 15 years; and Ernest "Ernie" Kallenbach, assistant professor of accounting, after 12 years.
--30--