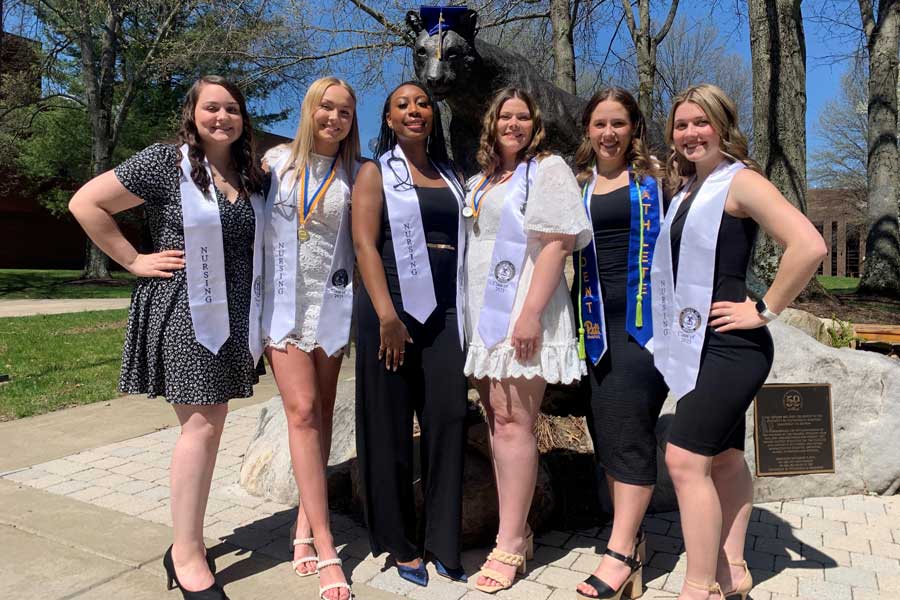 With nurses still in high demand, it's no surprise that nursing students graduating from Pitt-Bradford on Sunday are in demand.   
Five of the graduates – Haley Dickel of Kersey, Paige Richner of Houtzdale, Jenna Morgan of Johnsonburg, Haily Schatz of St. Marys and Brianna Foy of Tyrone -- will take on roles in the Penn Highlands hospital system, serving as neonatal intensive care unit, emergency room, medical-surgical and acute care nurses in the system's DuBois, Elk and Tyrone hospitals.   
Other nurses helping staff Western Pennsylvania medical facilities are Liam McIlwain of Kittanning, who will be a registered nurse at Armstrong County Memorial Hospital in Kittanning; Lillian Baldwin of Bradford, who is an RN supervisor at the Bradford Ecumenical Home; Emily Smith of Eldred who will serve as a nurse at Olean (N.Y.) General Hospital; Bailley Taggart of Eldred, who will be a staff nurse at UPMC Cole in Coudersport; and Meghan Peterson, who will be a registered nurse at UPMC Presbyterian in Pittsburgh.   
Avitamarie DeMieri of Walnutport will be a medical-surgical nurse at Lehigh Valley Hospital; Taylor Brooks of Sayreville, N.J., will be a medical-surgical nurse at Morristown (N.J.) Medical Center. Miniah Willis of Bradford will become a graduate nurse at the University of Chicago Medicine Advent Health in LaGrange, Ill. Alexandra Peters of Ambridge plans to continue her education as well by pursuing a Bachelor of Science in Nursing at Pitt-Bradford while playing softball for the Panthers.   
In other health-related majors, the exercise science program will send a record seven graduates on to work toward a doctorate in physical therapy: Andrew Piganelli of Bradford at Daemen College; Andrew Delasandro of Springville, N.Y., and Hailey Figliola of Fairborn, Ohio, DeSales University; Cassidy King of Johnsonburg at Gannon University; Anthony Gabriel of Philadelphia at Neumann University; and Dominic Puma of Williamsville, N.Y., at the University of Hartford.   
Tyler Newton of Shinglehouse will move to Williamsville, N.Y., and be a graduate assistant and athletic performance coach for Canisius College in Buffalo while earning a master's degree in health and human performance. Emily Goetz of Mechanicsburg is pursuing a master's degree in athletic training at Purdue University in Indiana, and Autumn DeBlock of Dingmans Ferry is pursuing a master's degree in clinical exercise physiology at Concordia University in Chicago.   
Exercise science students going straight to work are Kaitlyn Sexton of Sparks, Nev., who will be a physical therapy aide at Burger Rehabilitation in Elk Grove, Calif., and Zayda Wilson of Drexel Hill, who will be an emergency department technician with Penn Medicine in Philadelphia.   
Some psychology graduates are entering the health workforce as well. Agatha Fadale of Clarendon will be an adult direct support professional with Beacon Light in Warren; Jordyn Graham of Butler will be a foster care case manager at Families United Network in Muncy; and Jacob Goldsmith of Kane will be a family-based therapist at The Guidance Center. Lindsay Daub of Honesdale will pursue a master's in school psychology from Millersville University, and interdisciplinary arts major Christine Troll of Somerset plans to study licensed professional counseling and art therapy at Seton Hill University in Greensburg.   
Biology graduates will be putting their knowledge to use in medical offices and labs. Nadiya Andrews of Landowne will be a lab intern at Johnson & Johnson in Media; Dashana Smith of Philadelphia will be a medical assistant for Levy and Crawford Medical; and Fatimatou Saccoh of Philadelphia will be a medical scribe at Scribe America.   
Others entering health fields are Hattie Johnson, a liberal studies major from Natrona Heights, who will pursue a bachelor's degree in dental hygiene at the University of Pittsburgh, and Jolaina Shetler, a radiological science major from Mount Jewett, who will be a registered radiology technologist at Penn Highlands Elk in St. Marys.   
Other student standouts include a handful of computer information systems and technology students: Craig Faris of Greensburg will be a systems analyst with Fluor Marine Propulsion; Amine Sabile of Pittsburgh will be a software engineer with American Refining Group; and Aly Thompson of Coudersport, a web programmer for Pitt-Bradford.   
Among criminal justice graduates, Nikolas Erickson of Bradford will be a patrolman with the Allentown City Police; Raychel Keller of Mount Jewett will be a Transportation Security Officer at the Bradford Regional Airport; and Madeline Gillespie of Breinigsville will pursue a master's degree in criminal justice at DeSales University.   
Business management majors Alexandra Bennardi and Zachary Woodel, both of Bradford, landed positions in their hometown. Bennardi is a universal associate at CNB Bank and is pursuing an online master's degree in human resources management from Slippery Rock University. Woodel is a client service specialist with Ameriprise Financial.   
The Bradford Area School District will be adding some teachers from the ranks of Pitt-Bradford graduates. Taylar Mager, an early education preK-4 major from Bradford teaches second grade at George G. Blaisdell Elementary School, and Taylor Sutryk, a health and physical education teacher from Addison, N.Y., will be a health and physical education teacher at Bradford Area High School.   
Finally, Jorj Lemay, a broadcast communications major from Philadelphia will pursue a master's in media studies and production at Temple University; Natali Heater, a forensic science major from Tatamy Boro is headed to the University of Florida to study for a master's degree in forensic science and toxicology; and Kameo Chambers, an interdisciplinary arts major from Philadelphia is pursuing a Master of Fine Arts degree in electronic integrated arts at Alfred (N.Y.) University.
--30--