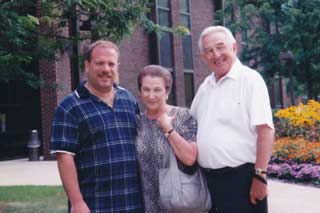 Alex Nazemetz, associate vice president of enrollment management at the University of Pittsburgh at Bradford, knows first-hand that sometimes a few hundred dollars can make the difference for students, especially for those attending from out-of-state.
So, when he wanted a way to honor his parents following his mother's death a couple of years ago, he thought of something he knew was meaningful.
"I've always wanted to have a family scholarship – thinking of the past and my parents raising a family," he said. "I've been saving for a while, especially during the pandemic. I wanted something to have a lasting effect."
Nazemetz used his saved funds to endow the Alexander and Anita C. Nazemetz Family Scholarship Fund at Pitt-Bradford, where it can help students he works with as director of admissions.
First priority for recipients goes to the alumni of Immaculata High School, the school he attended in Somerville, N.J., second priority to students from his home state of New Jersey followed by any out-of-state student.
"The college search process is crazy," he said. "There are many people for whom a few hundred dollars can make a difference – especially for out-of-state students."
I've always wanted to have a family scholarship. I've been saving for a while. I wanted something to have a lasting effect. Alex Nazemetz
In 2021-2022, students from 25 states and 10 countries studied on campus.
"Pitt-Bradford is a great place for the region," he said. "It's a great avenue for education and a great value."
Nazemetz came to Pitt-Bradford as director of admissions from his alma mater, nearby St. Bonaventure University in Allegany, N.Y., in 1999. He grew up in New Jersey, and his father commuted two hours each way into New York City where he was an advertising executive. His mother, a former legal secretary, became a homemaker. On weekends, his parents would sometimes go into the city for a Broadway show or fancy dinner. Other times, his parents drove the family the 50 minutes to the Jersey shore for a day at the beach.
It was a good childhood, and Nazemetz knows it. He also knows it was possible because his father, the son of Ukrainian immigrants and a World War II veteran who would later work for the Veterans Administration, went to college on the G.I. Bill. His mother was the daughter of Italian immigrants. Both believed in the power of education.
More than a decade after his father died in 2002, Anita Nazemetz came to live with her son in Allegany, N.Y. "No. 1 son," she would call him. "No. 1 mom," he would call her. "The best parents" who will continue to help young people through their son's gift.
To learn about creating a scholarship at Pitt-Bradford, contact the university's Office of Philanthropic and Alumni Engagement at 814-362-5091 or visit upb.pitt.edu/giving.