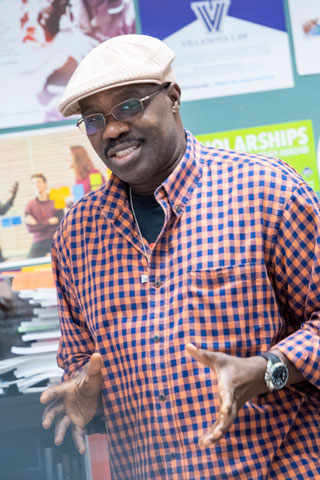 Dr. 'BioDun Ogundayo, director of Africana Studies and associate professor of French and comparative literature at the University of Pittsburgh at Bradford, is one of three keynote presenters at the 6th J.A. Atanda Lectures and Conference, "Yoruba Culture and Society."  
The international conference will be held June 21-23 both onsite at Babcock University Ilishan-Remo, Nigeria, and virtually. The conference will examine culture's role in shaping society, particularly various facets of Yoruba life and culture.
Ogundayo will present his paper "Theorizing Yoruba Practice in the 21st Century," a scholarly essay on the current state of studies of Yoruba history, culture, intellectual heritage, and practices.
Ogundayo, who is Yoruba, said that Yoruba is an ethnicity as well as a language – just as English is both an ethnicity and language. There are over 40 million Yoruba who live mainly in southwestern Nigeria, but are also spread across West Africa, the Caribbean, Brazil and Latin America.
"Through European slavery, Yoruba language, and culture (religion, music, spirituality, etc.) have had powerful and lasting impacts on Black Diaspora societies of the United States, United Kingdom, Brazil and the Caribbean," Ogundayo said. 
At Pitt-Bradford, where he has taught since January 2001, Ogundayo directs the Africana Studies program and foreign languages. His academic focus is Africana studies, African and comparative literature, comparative linguistics, translation and African spirituality. He is a fluent speaker of Yoruba, French, English, and Hausa, a major sub-Saharan language. He also reads Spanish, Italian, Russian and some Ghanaian languages and holds a certificate in elementary Chinese.
Conference registration is free. For more information on the conference, visit https://babcock.edu.ng/atandaconference/.
--30--