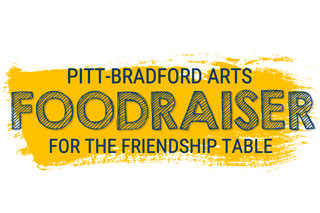 In lieu of audiences during the pandemic, Pitt-Bradford Arts is holding a "Foodraiser" to fill the seats of the Bromeley Family Theater with food and funds.
"We're trying to stay connected with our community because we haven't been able to have any shows for more than a year," said Patty Colosimo, director of arts programming. "We haven't been able to fill our theater seats with people, but we can fill them with food."
Food gathered will benefit Bradford's soup kitchen, The Friendship Table, and monetary donations will benefit the newly named Howard Fesenmyer Endowment for The Friendship Table. Fesenmyer, an ardent supporter of both Pitt-Bradford and The Friendship Table, died in February.
Staff from Pitt-Bradford Arts have coordinated with area businesses to gather food at several locations in Bradford. In addition, volunteers from local groups, Pitt-Bradford and its Arts Council will collect food from 9 a.m. to noon on April 24 at Blaisdell Hall with a no-contact, drive-by drop off.
Items specifically requested include canned vegetables, spaghetti sauce and chili beans; plastic jars of mayonnaise, and boxes of instant potatoes and pasta.
To make a monetary donation, visit https://friendshiptable.churchcenter.com/giving.