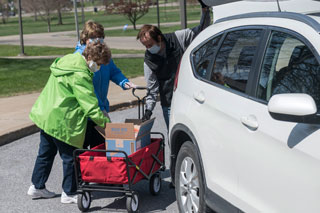 Pitt-Bradford Arts met its goal of filling the Bromeley Family Theater with food this weekend – twice.
Unable to bring audiences to campus for arts events during the pandemic, the University of Pittsburgh at Bradford held a "Foodraiser" event Saturday to reconnect with audience and community members while supporting The Friendship Table, Bradford's soup kitchen.
Local businesses gathered food and funds in advance, and on Saturday morning, donors could pull up to the front of Blaisdell Hall for a contactless drop-off.
As each vehicle pulled up to the building, a small crew of volunteers from The Friendship Table, Pitt-Bradford and its Arts Council and American Association of University Women cried, "Here comes somebody else!"
Donors rolled down their windows for brief but enthusiastic conversations with volunteers as they popped their trunks and hatchbacks for quick removal of groceries. In a small community like Bradford, most of the greetings and thanks were by name – by folks who haven't seen each other in person for six, eight, ten months or more.
"It's so good to see our patrons and friends," said Courtney Mealy, assistant director of arts programming, who was helping with deliveries that were whisked to a back stage loading dock where they were sorted by volunteers from The Friendship Table.
Volunteers there sorted food that could be taken to The Friendship Table to create grab-and-go meals for its patrons. Items that could not readily be used for the creation of meals were sorted to go to other food pantries serving Bradford.
Patty Colosimo, director of arts programming, conceived of, planned and promoted the event. She envisioned placing $10 worth of food or donation in each of the campus theater's 500 seats. By the end of the day, the project had collected $7,560 and food donations worth $2,750.
Ben Dansberger, a member of The Friendship Table board of directors and executive chef at Pitt-Bradford, was not surprised.
"The sense of community that's here is insane," he said. "I've never lived in a place like this." He and Joel Meyer, president of The Friendship Table board of directors and general manager for Metz Culinary Management, had taken over the theater's box office to process monetary donations.
Money from the event will go toward the Howard L. Fesenmyer Endowment Fund, which honors an active volunteer at both Pitt-Bradford and The Friendship Table.
The endowment will help The Friendship Table, which served 60,000 meals in the past year, when donations are lower. The organization is funded entirely through the community.
Joe Doriguzzi, the assistant manager of The Friendship Manager, stood on the loading dock, placing food into trucks. "This looks like a lot of food, but it will go so quickly," he said.
Summer is a busy time for the kitchen, treasurer Seth McClymonds explained, as children get out of school. While the Bradford Area School District feeds children lunches during the summer, The Friendship Table provides food for an entire family to eat together.
Before the pandemic, the doors to The Friendship Table were open all day as a place to sit and have coffee, have someone to visit with or stay out of the heat or cold.
Pitt-Bradford and Metz Culinary staff members also volunteer their time and expertise on a regular basis.
Longtime Friendship Table volunteer and board member Harrijane Hannon Moore said, "Were' thankful to Pitt-Bradford and to Pitt-Bradford Arts for taking the initiative on this Foodraiser."