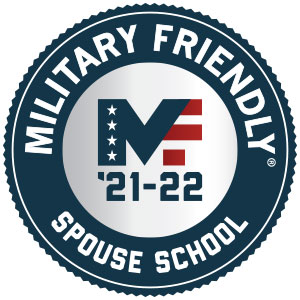 BRADFORD, Pa. – The University of Pittsburgh at Bradford has been named a Military Spouse Friendly School by Viqtory Media for being at the forefront of colleges and universities supporting the goals of military spouses.
Institutions earning the Military Spouse Friendly® School designation were evaluated using public data sources and responses from a proprietary survey. More than 1,200 schools participated in the 2021-2022 survey, with 747 schools earning the designation as a Military Friendly School, of which 194 were selected for the Military Spouse Friendly Schools list.
Pitt-Bradford was designated as a Military Spouse Friendly School for its leading practices, outcomes, and effective programs for military Spouses. The 2021-2022 Military Spouse Friendly® Schools list will be published in Military Spouse magazine's May issue and can be found at www.militaryfriendly.com.
Pitt-Bradford was the only campus in the University of Pittsburgh system and one of only three public universities in Pennsylvania to earn the Military Spouse Friendly designation.
Methodology, criteria, and weightings were determined by Viqtory with input from the Military Friendly® Advisory Council of independent leaders in the higher education and military recruitment community. Final ratings were determined by combining the institution's survey response set and government/agency public data sources within a logic-based scoring assessment.
"Military Friendly® is committed to transparency and providing consistent data-driven standards in our designation process," said Kayla Lopez, national director of military partnerships for Military Friendly. "Schools who achieve designation show true commitment and dedication in their efforts."
In February, Pitt-Bradford received the Military Friendly School designation for its 11th year. Currently, Pitt-Bradford has at least 20 veterans and four veterans' spouses enrolled.
--30--