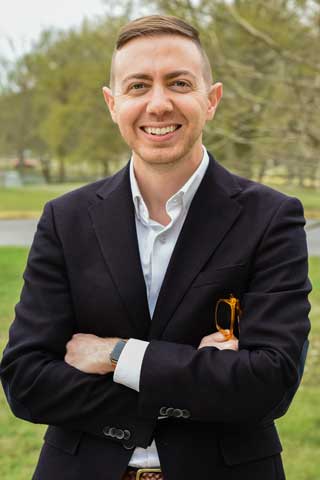 The University of Pittsburgh at Bradford has named Michael Davila as its next vice president and dean of student affairs following a national search.
Davila has been serving as associate vice chancellor and dean of students at the University of Arkansas at Monticello since 2019. He will begin his new duties May 31.
In his new position, Davila will oversee career services, counseling and health services, disability services, new student orientation and first-year experience, residence life and housing, student engagement, leadership development and community engagement, and student care and conduct. He will also serve as a member of the President's Cabinet.
"Michael brings to our campus a depth and breadth of experience in the student affairs area," said Rick Esch, interim president of Pitt-Bradford. "In addition to having experience in what are considered the traditional aspects of student affairs, Michael has provided leadership in other areas, including academic advising, student success and retention, tutoring and Title IX."
Before serving at the University of Arkansas Monticello, Davila spent four years as the dean of students at Navarro College in Corsicana, Texas, and was assistant director of student engagement, enrichment and development at Austin College in Sherman, Texas.
A native of the Dallas/Fort Worth area, Davila earned his undergraduate degree at East Texas Baptist University in Marshall, Texas, where he got his start as a residence hall director and served in various residence life staff positions.
He went on to serve as a residence hall director at Texas Wesleyan University in Fort Worth, Texas, while earning a Master of Education in higher education from Dallas Baptist University in Dallas, Texas.
This fall, he will his defend doctoral thesis at Texas Christian University in Fort Worth, Texas. The topic of his dissertation is "The Emotional Labor of Student Affairs Work."
"Emerging from the pandemic, student affairs and Pitt-Bradford are at a unique point, and I'm excited to join the team at this time and place," Davila said. "Over the past few months, I have learned a lot about Pitt-Bradford, and I am looking forward to being on campus, getting to know the people and the programs on a deeper level, and supporting and empowering the student affairs team to do their best work on behalf of our students."
Davila said he loves spending time outdoors hiking, camping and traveling to national parks as well as working on his lawn and garden. He also enjoys cooking and baking and singing, playing and enjoying music. He is looking forward to relocating to Bradford and becoming a part of the community along with his partner, Timothy, and their adopted Italian greyhound mix named Pippin.