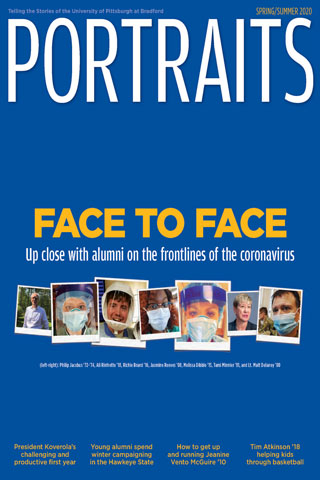 The University of Pittsburgh at Bradford's alumni magazine, Portraits, has received a Silver Award from the Council for the Advancement and Support of Education District II Accolades Awards.
The Spring/Summer 2020 issue was recognized at the CASE All Districts Conference held earlier this month. CASE recognized the magazine in the Magazines on a Shoestring category, which was created to recognize offices with limited staff, resources and/or time.
The judges specifically mentioned two of the issue's main feature stories; alumni on the frontlines of the COVID-19 pandemic and an introduction to the university's new president, Dr. Catherine Koverola.  
One judge said, "Of particular note was the introduction of the new president and the COVID essential workers' profiles. The phrase 'when a high touch campus moves online' was a compelling theme."
Judges also wrote that they enjoyed both the online version of the magazine and appreciated that the magazine staff had recently surveyed its readership. 
"There are many people involved in creating Portraits, from idea generators, writers and copy editors to photographers and designers, who all bring a high level of creativity and dedication to the magazine," said Pat Frantz Cercone, executive director of communications and marketing who serves as the magazine's senior editor. "We hope our readers continue to enjoy learning about the achievements of our amazing campus community members."  
Portraits is edited by Kimberly Marcott Weinberg, assistant director of communications and marketing. Other staff for the issue were copy editors Laurie Dufford, administrative assistant for communications and marketing, and Judy Hopkins '71-'73, and former alumni editor Lindsay Hilton Retchless '98.
John Sizing of JS Publication Design designed the issue. Photographers included Pitt-Bradford alumni Alan Hancock '07, '19 and Glenn Melvin '04.
CASE's District II is its largest and includes more than 675 institutions from Pennsylvania; New York; New Jersey; Maryland; Washington, D.C.; Delaware; West Virginia; Ontario, Canada; U.S. Virgin Islands; and Puerto Rico. 
Portraits can be found at https://www.upb.pitt.edu/administrative-offices/communications-marketing/portraits.
--30--