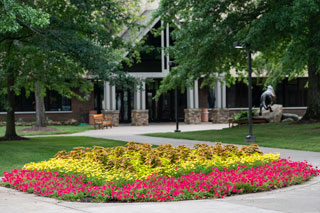 The University of Pittsburgh at Bradford will hold a Cookout in the Quad from 5 to 7 p.m. July 20 to welcome the community back to campus.
For two years during the COVID-19 pandemic, the University of Pittsburgh restricted its visitors to invited guests only on all five of its campuses in order to create as safe an environment as possible. That restriction has been lifted, and the public is once more permitted inside campus buildings. All visitors are welcome to continue masking, but face coverings are currently not required.
The welcome back celebration will feature a complimentary cookout, a chance for community members to meet and talk with newly named President Rick Esch, tour campus and win Pitt-Bradford prizes.
"We're happy to welcome our friends and neighbors in the community back to campus for what I know will be an enjoyable evening," Esch said.
Those planning to visit should note that Campus Drive will be closed from Wagner Avenue to Onofrio Street and that the best approach to campus will be from West Washington Street.