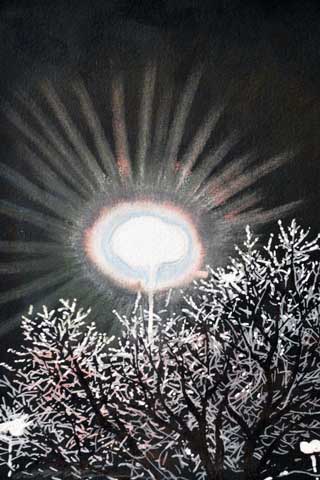 The University of Pittsburgh at Bradford will host an exhibition of art by J.D. McGuire, assistant visiting professor of art, from March 29 through April 22.
The exhibition, "After the Eclipse," opens with a reception and talk by McGuire at noon March 29 in the KOA Art Gallery in Blaisdell Hall. The public is welcome to attend. Face coverings are optional.
McGuire said that since 2015, he has been working on pieces that relate to light and dark, day and night, life and death.
"Most of the subjects that I choose to draw and paint are personal, but not specific," he said. "I paint the moonlight, campfires, sunsets, lonely roads, dimly lit interiors and human silhouettes. I am trying to capture these moments of life that flash before our eyes. I am trying to capture the moments of quiet existence."
A native of Lebanon, Mo., McGuire is a graduate of the Kansas City Art Institute and the Mason Gross School of the Arts at Rutgers University. His works have been exhibited nationally, and his focus is on drawing and painting. He has been featured at the Newark (N.J.) Museum, the Kansas City Jewish Museum and the Pool Art Center at Drury University.
The works featured in "After the Eclipse" are from the past few years and represent his life living in small rural towns in Missouri, Kansas and Pennsylvania.
--30--