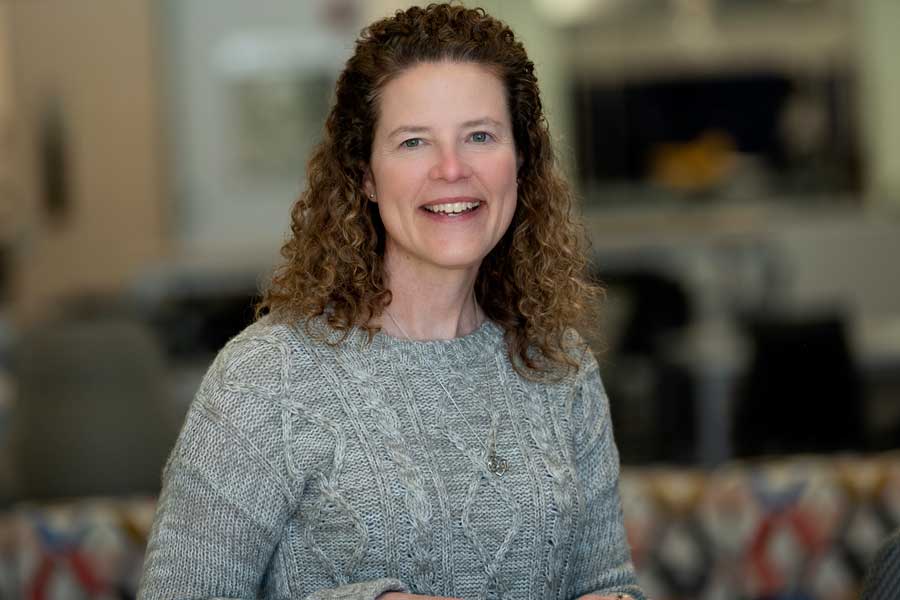 The University of Pittsburgh at Bradford honored Joelle Warner, director of donor relations and stewardship, during its Honors Convocation on Friday with the President's Award for Excellence in Overall Performance from Richard T. Esch, Pitt-Bradford president.   
"I am very happy to present this award to Joelle, who approaches her work with an exceptionally high level of professionalism," said Richard T. Esch, Pitt-Bradford's president. "She also cares deeply about our students, our faculty and staff, and our generous supporters."     
The President's Award was created in 2016 to recognize a staff member who has demonstrated exemplary performance and outstanding individual contributions to the Pitt-Bradford campus.   
Warner's coworker, Christine Tyler, director of development and major gifts, nominated her for the award.   
Tyler noted that Warner's consistent professionalism, organization and diligence were of immense benefit to the university as she planned the dedication of the George B. Duke Engineering and Information Technologies Building and an annual luncheon for scholarship donors to meet their recipients.   
During that time, Warner also arranged for donors to tour the new building and arranged for signage, including a new digital display, while also gathering thank you letters from donor recipients, tending to the needs of other donors and making each donor she works with feels valued.    
"Joelle has made a tremendous impact on Pitt-Bradford's ability to raise philanthropic funds and to acquire, cultivate and steward donors," Tyler wrote. "She has assisted countless donors to establish scholarships at Pitt-Bradford [and] worked with corporate donors on in-kind donations. … The standard of excellence that our donors have come to expect from Pitt-Bradford's advancement program can, in large part, be traced directly back to Joelle's efforts."   
Tyler told a story to illustrate Warner's individualized touch. "Last year one of our older donors, recently widowed, was not able to attend [an event] due to mobility issues. Joelle arranged to drive to the donor's home a few days after the event to deliver a gift in person and spend some time visiting. Not because that falls under 'other duties as assigned,' but because that's who Joelle is as a person."   
Warner and her husband, Kyle, live in Kane and enjoy traveling with their dog, Becca, snowmobiling and vintage motorcycle racing, and spending time outdoors and with their families.   
Previous recipients of the award include Christina Marrone, registrar and director of enrollment services; Kim Masone, former conference services manager; and Richard Kahle, facilities director of the Richard E. and Ruth McDowell Sport and Fitness Center.
--30--