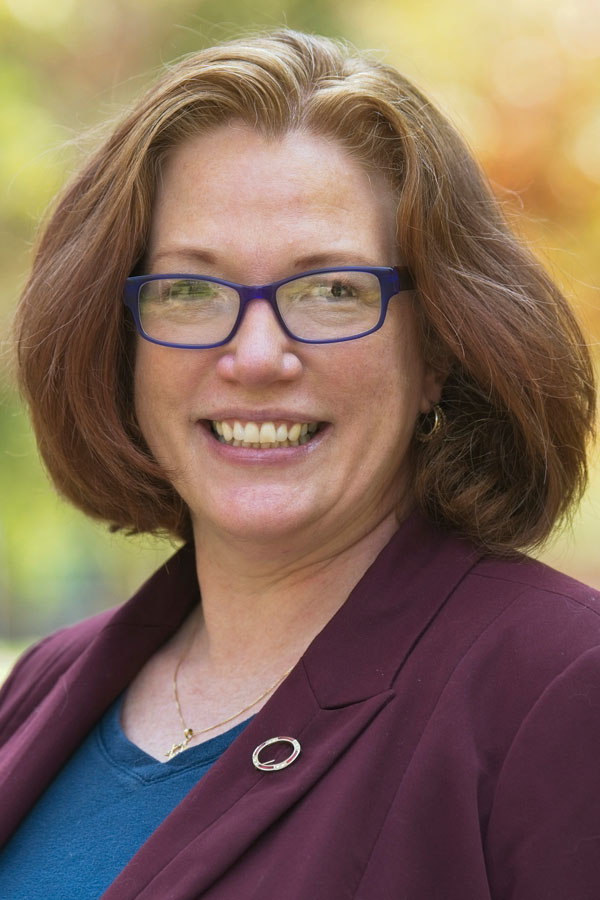 Kimberly Marcott Weinberg, assistant director of communications and marketing at the University of Pittsburgh at Bradford, has received an award for her story about Pitt-Bradford alumni navigating the frontlines of the COVID-19 pandemic.
Weinberg received a Best of CASE District II Award in a special category for COVID writing from the Council for the Advancement and Support of Education for the story, "A New World. Up Close With Alumni on the Frontlines of the Coronavirus." The story appeared in the Spring/Summer 2020 edition of Portraits magazine, Pitt-Bradford's alumni magazine and flagship publication.
The story showcases seven alumni working in health care and how they were dealing with the extreme professional demands at the start of the pandemic.
In addition to nurses, Weinberg profiled a physician assistant and health care administrators, including Tami Minnier, a Bradford native and 1981 Pitt-Bradford graduate, who currently serves as chief quality officer at UPMC in Pittsburgh.
"Kimberly's story was an honest, compelling and sometimes heartbreaking depiction of the stresses and challenges some of our alumni were facing," said Pat Frantz Cercone, executive director of communications and marketing. "Only someone with Kimberly's talent could have accurately and compassionately told their story."
Last year, CASE recognized the entire Spring/Summer 2020 issue of Portraits with a Silver Award. In their comments, the judges specifically mentioned the story Weinberg wrote.
CASE, a nonprofit organization dedicated to educational professionals, annually presents awards for work in several areas, including communications and marketing, fundraising, and alumni relations.
Pitt-Bradford is part of District II, which is the largest of CASE's eight districts and includes colleges and universities in Delaware, the District of Columbia, Maryland, New Jersey, New York, Pennsylvania, Puerto Rico, the U.S. Virgin Island, West Virginia, and Ontario, Canada.
Weinberg has been a member of the award-winning team of communicators at Pitt-Bradford since 2007.
In addition to writing and coordinating nearly all of the content for Portraits, Weinberg also handles all media relations and assists with other communications and marketing projects. In addition to those responsibilities, she also is president of Pitt-Bradford's Staff Association.
Weinberg holds a bachelor's degree in English from Washington and Lee University. Before coming to Pitt-Bradford, she was a reporter and editor at The Bradford Era. She and her husband, Rick, live in Bradford and are the parents of Preston, a digital narrative and interactive
design major at Pitt, and Madeline, an environmental studies and environmental science major at Pitt-Bradford.
To subscribe to Pitt-Bradford's award-winning magazine, visit https://www.upb.pitt.edu/administrative-offices/communications-marketing/portraits.