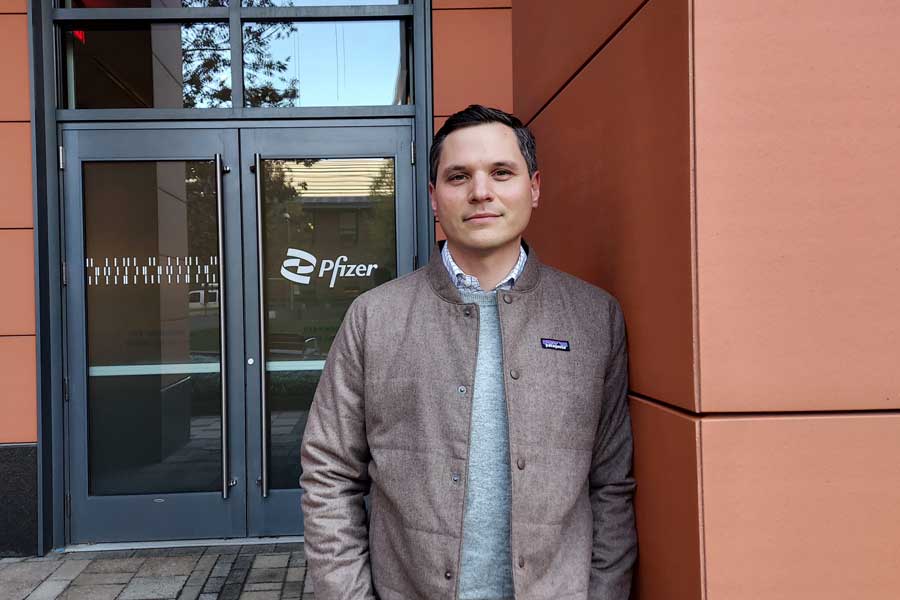 This story first appeared in the winter 2023 issue of Portraits magazine 
By Maya Bingaman '19 
IT'S NOT UNCOMMON for students to enroll at Pitt-Bradford with one career path in mind before changing their trajectory and graduating with a completely different degree. This was no different for Dr. John Androsavich '07. 
Androsavich, whose mother was a registered nurse, came to Pitt-Bradford in 2003 with the goal of becoming a pharmacist. He found the biology and technicalities in his mother's nursing journals fascinating and wanted to learn more. However, after interning at a CVS drugstore, he realized working at a pharmacy was not what he had envisioned. 
"More of the work was with insurance companies and customers," he said. Unsatisfied, yet still keen on pharmacology and physiology, he decided to change his major to biology with a chemistry minor. Androsavich worked with Dr. David Soriano, associate professor of chemistry, during his senior year and that interaction introduced him to a new window of opportunities in the pharmaceutical space. 
"We were doing computational simulations of proteins and observing their interplay with drug molecules," Androsavich said – a process known as docking. "It gave me the molecular insight into pharmacology that I was seeking and didn't necessarily think I would get as a pharmacist. 
"I wish I had known that it didn't have to be just a one-way path. You don't have to go to a dental school or medical school. You can do research and work in medicine too. Some of the most influential scientists in the field of medicine understand scientific processes. You don't have to pick one track." 
The fall of Androsavich's senior year at Pitt-Bradford was also a milestone year for RNA research and recognition. In 2006, Andrew Fire and Craig Mello received the Nobel Prize in Physiology or Medicine for their finding of RNA interference. "That was the first time I saw (RNA) in the limelight, and it got me excited," Androsavich said. 
RNA molecules serve as the intermediary between DNA molecules that contain genetic instructions and production sites that make proteins, which are major building blocks in cells. 
Androsavich continued learning about RNA during his final year at Pitt-Bradford and conducted his senior capstone research exploring small interfering RNA (siRNA) and the potential it had to treat HIV, the virus which causes AIDS. "I no longer wanted to learn to dispense drugs. I wanted to learn to discover them," he said. 
Following his graduation from Pitt-Bradford, Androsavich went on to earn his Ph.D. in chemical biology at the University of Michigan and then worked at a variety of biotechnology companies, including Regulus Therapeutics, RaNA Therapeutics and Translate Bio – all focused on RNA drug discovery and development. 
Propelling his career even further, Androsavich joined Pfizer's Emerging Science & Innovation team in 2021. This team was responsible for setting the stage for the eventual development of the well-known Pfizer-BioNTech COVID-19 vaccine. Years prior to the emergence of SARS-CoV-2 virus, the Emerging Science & Innovation team was already making inroads with the German biotechnology company BioNTech. 
"In 2018, before I was at Pfizer, my team built that relationship, scouted the mRNA/LNP technology and then signed the deal for a flu vaccine with BioNTech. It was only at the beginning of the pandemic that Pfizer and BioNTech adjusted the focus to COVID." 
Androsavich, who is now the global head of RNA medicine emerging science at Pfizer, assumes a business development role in which he engages with academics, technicians, researchers and company executives, and is always on the lookout for new therapeutic applications of RNA. 
"My job is to interact with different biotechs and investigators to find the best technology and drug candidates out there that complement Pfizer's portfolio. Then, I build those relationships to find out how we can collaborate and partner together. I'm essentially playing matchmaker and facilitating new RNA drugs. I think RNA medicine can be so much more, and it's important to get in early," he said. 
The field of research in biopharmaceuticals, and RNA specifically, had been expanding in recent years and has now exploded because of COVID-19. 
"The world has turned and realized what RNA can do. I was hopeful that this day might come, although it's unfortunate it took a pandemic to get here," Androsavich said. 
The growth of RNA research at Androsavich's postgraduate institution serves as a small testament to the market expansion. When he completed his Ph.D. in 2012 at the University of Michigan, there were only four faculty labs focused on RNA research, including the lab where he conducted his thesis research. When Androsavich returned to Ann Arbor, Mich., this past year after being invited to participate in an RNA symposium, there were more than 150 faculty members affiliated with a newly established RNA Center for Biomedicine. 
Although the success of the mRNA COVID-19 vaccine development has been unprecedented, Androsavich doesn't expect the momentum to end any time soon and is curious to see what discoveries will come next. 
"Can RNA drugs be developed for other diseases that are public health concerns like diabetes, obesity, cardiovascular disease and cancer? There are a lot of concepts and candidate molecules being evaluated for treating different indications," he said. 
Androsavich's wife, Meredith (Zoschg) Androsavich '06, whom he met while at Pitt-Bradford, has Crohn's disease, and he has a personal hope for an RNA-based cure for the condition. 
Androsavich attributes much of his career foundation to Pitt-Bradford for giving him the room to explore his interest as an undergraduate student and the opportunity to work closely with talented faculty. 
"You have [a professor's] full attention. They have time to spend with you. They don't have a million things on their priority list above their students. They're thrilled even to have people come to office hours. And even in labs, the professor is there the whole time to see you make mistakes instead of hearing about it second hand from a teaching assistant," Androsavich said. 
Androsavich's current pharma role might have been ushered in part due to the nature of COVID-19 and overall industry growth, but more so due to his tenacity and dedication to RNA over the course of his career. 
"Conviction and dedication go a long way. If you are a student or even already working a job, it's important to dedicate yourself to that time and space," Androsavich said. 
"There are some students that are too forward looking, and they miss out on the opportunity to give their all where they are. Conviction to me means that if you like or believe there is potential in something, stick with it. Keep one thing fixed. You don't want to become too conservative or narrow in your thinking though, so take that one piece that is familiar to you and grow vertically upon your expertise and work with others who are experts in other areas who complement your skills. Especially now, the need for collaboration in science, and arguably all areas of life, is critical." 
--30--