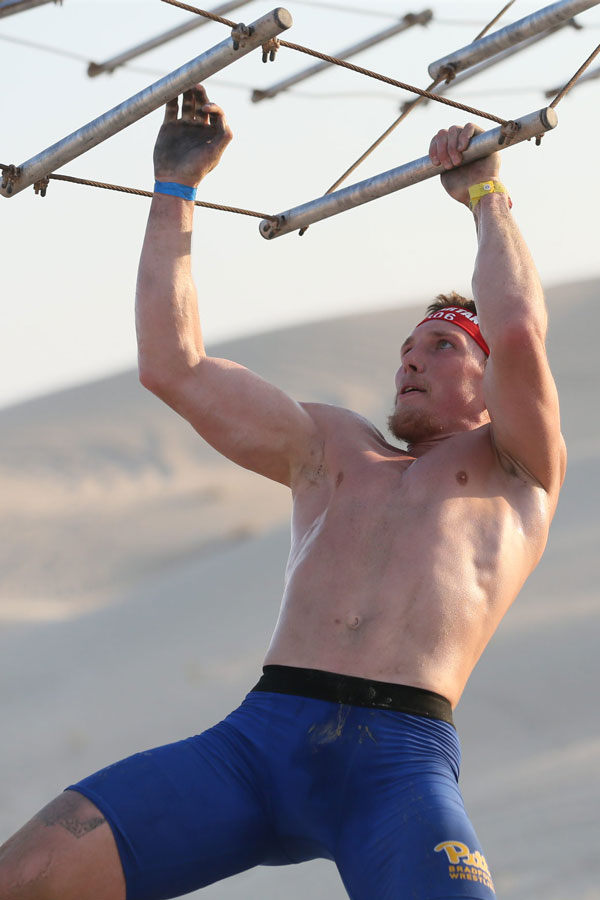 This story first appeared in the Winter 2023 issue of Portraits magazine. 
Senior Tyler Newton '23 has been a competitor all his life. Newton spent most of his life fulfilling his desire to compete on the wrestling mat. Now, with his NCAA eligibility used up, he has also found a new outlet for his competitiveness in endurance obstacle races, specifically Spartan Races. 
A nontraditional student, Newton came to Pitt-Bradford in 2021. He graduated from Bolivar-Richburg (N.Y.) Central School in Bolivar in 2012 and attended the NCAA Division I University of Buffalo (N.Y.) as a member of the school's wrestling team. But after four years at Buffalo, Newton became unsure of his career goals and returned home, where he worked with his father and began coaching wrestling. 
Coaching alongside his father, Newton found his passion and decided to return to college to earn a degree in exercise science with a final goal of entering the coaching profession. 
He enrolled at Pitt-Bradford and, in spring 2022, he used his final semester of NCAA eligibility to join Pitt-Bradford's wrestling program. He posted a 17-6 record and was named an NCAA Division III Scholar All-American by the National Wrestling Coaches Association. This season, he is serving as a volunteer coach for the Panthers. 
It was Newton's wife, Stephanie, who introduced him to the world of competitive obstacle course racing in 2019. He excelled in the races, slowly working his way through qualifying events until he qualified for and competed in the 2022 Spartan World Championship held in Abu Dhabi, United Arab Emirates, on Dec. 3. 
"This has given me an amazing opportunity to not only compete at the highest level," said Newton. "It has also given me the chance to travel the country and now the world, taking in and experiencing new cultures and enjoying different parts of the world's natural beauty." 
Spartan Race is a series of obstacle course races that have been franchised in 30 different countries. The races vary in length between 5 kilometers and 30 miles, are held on off-road terrain with water and mud and contain 20-30 obstacles. Competitors can enter an open competition or can qualify for elite competition, which gives successful racers opportunities to compete in regional and world championships. 
Newton ran his first race in Illinois in 2019 and signed up at once for the elite competition. "If I'm going to do it, I'm going to compete at the highest level I can," he said. Not only did he compete at the elite level, but he succeeded, finishing in 9th place. 
Spartan Races were put on hiatus in 2020 during the height of the COVID-19 pandemic, but Newton trained and was ready to compete again when they resumed. He took 13th place in a race in Ohio to requalify for elites, and then in 2022 won his age group, 25-29, at a race in New Jersey, earning a spot in the North American Qualifiers, held in Kelowna, British Columbia, in August. 
At the North American Championships, Newton ran a 14-mile course featuring more than 30 obstacles, all while battling nearly 9,000 feet of elevation change and cold, snowy conditions in the Canadian Rockies. He finished the race in 2 hours, 53 minutes, passing two competitors in the final mile to earn his spot in the World Championship held in Abu Dhabi in December. 
Newton considered whether to compete, but he cited the support of his wife in making the decision to continue. 
"Steph has been so supportive of me in this venture," he said. "Not only did she introduce me to the sport, but as a former high-level competitor herself, she has coached me and pushed me to keep on competing. She told me that this is an opportunity you might not have again, so make the most of it." 
Newton, accompanied by his wife, began his whirlwind trip to the other side of the world on Nov. 30, arriving in the UAE 7,000 miles and nine time zones away on Dec. 1. The couple arrived in Abu Dhabi just in time for the UAE's National Day, a celebration of the country's unification. 
"It was an amazing experience," he said. "There were festivals, special meals and fireworks shows. It was really cool to see the celebrations and have an opportunity to join in some of them." But he did not have too much time to partake in the celebrations since his race was the next day. 
The World Championship was a 10-kilometer race with 25 obstacles. Unlike his experience at the regionals, Newton would now battle temperatures in the mid-80s with a tough course that included running in loose sand dunes. He was one of 95 men competing in the elite race and finished in 29th place with a time of 1 hour, 25 minutes. 
He recalls being emotional both before and after the race. 
"As a competitor, being able to compete in a world championship was incredible," he said. He returned home the next morning (Dec. 4) and was back on campus for class and practice a day after that. 
Moving forward, Newton is excited to finish his degree and begin coaching and will restart his qualifi cation process in April for next year's Spartan Elite Championship. – Matt Lovell