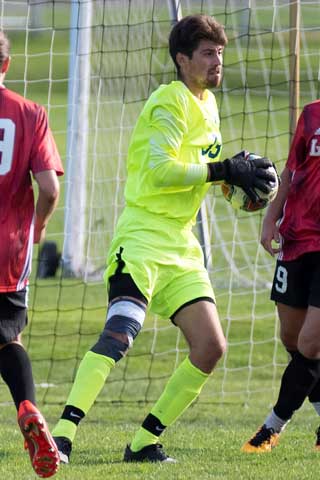 Born into a hockey-loving Canadian family in Windsor, Ontario, Jared Scarlett and his two brothers grew up with an appreciation for sports. It was a surprise to his family, however, when he turned his back on hockey at age 5 and chose to pursue soccer.
His passion for soccer shot him to a Midwest regional team in 2014, where he played with a united group of Canadians and Americans in the Super Y League. The team fought its way to the league finals. The journey ended in Florida, but further enriched Scarlett's love for sports.
It was in high school where he found a way to support other athletes while fostering an interest in medicine. Scarlett volunteered at a physical therapy clinic where he spent time after school each day. Over the hours working with patients, he found satisfaction in getting to help them and wanted to learn more.
After graduating high school in 2020, Scarlett came up with a way to merge his appreciation for both medicine and athletics. Deciding on exercise science as his major, it was time for him to choose a university.
"American schools put a big focus on sports," said Scarlett, who hoped to continue his soccer career. While he was looking at nearby schools in the states, he was contacted by a representative from Pitt-Bradford. Seeing its forested scenery and small class sizes, Scarlett made his pick.
However, he would quickly face challenges shared by students around the world. In his last days of high school, Scarlett's class had lost its prom, dances, and graduation ceremony to COVID-19. The ramifications of COVID-19 brought uncertainty to his first year of college and soccer. The Allegheny Mountain Collegiate Conference canceled the fall 2020 season, and Scarlett spent his freshman year in lock-downed stasis with the rest of the world.
He finally played his first matches as a sophomore backup goalkeeper in the 2021 fall sun. However, as COVID lingers on in our lives, so does it for Scarlett as an international student. He isn't one to get homesick, something he's thankful for when returning home is such an inconvenience. To cross the border into Canada to return to his family, Scarlett must obtain a negative COVID-19 test result. This is complicated because the free test takes three-to-four days for results to be received, and the test needs to have been taken within the three days of being brought to the border. The scheduling and hassle keep him on campus until breaks, but he doesn't mind.
Scarlett enjoys Pitt-Bradford's natural landscape that helped bring him here and the school's small class sizes. It's meaningful to have the professors know him by name, especially during remote classes that would otherwise feel distant. "Having smaller classes, you can ask questions and get personal answers," he said. Smiling, Scarlett recalled a time when a professor asked him for a favor -- translating a Celsius thermometer to Fahrenheit. It was the kind of little personal interaction he knew he would not likely have at a larger university.
Thinking ahead, Scarlett plans to return to Canada to pursue a graduate school program. He has yet to decide whether he'll build on his future exercise science bachelor's degree with a master's in physiotherapy or education. With two years left, he is confident he has enough time to make the right choice.
-- Aaron Suranofsky '23