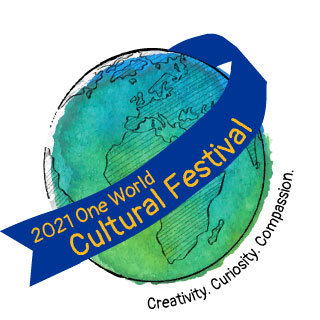 A long-standing tradition at Pitt-Bradford, the 2021 One World Cultural Festival  took place virtually on Saturday, February 27. The festival celebrates the many different cultures represented by the Pitt-Bradford student body, faculty and staff. This year's celebration is themed Creativity, Curiosity, Compassion.
Campus Community Events
Content
Saturday, February 27, All Day
Can you find our 5 featured country posters around campus? Answer the 5 questions on the Office of Student Engagement's Instagram (@oseupb) to be entered into a drawing for a $50 Panther Shop gift card!
Content
Did you know that for centuries people used henna to cool down their body temperature in the hot desert? Or that it was used for its healing qualities, including preventing hair loss? Pick up your Henna @ Home kit from the Commons Info Desk then jump onto Zoom to learn more fun facts and some cool designs. We'll even walk you through how to do it yourself!
Content
Saturday, February 27, 4-7:30pm
Dining Room
Students with a meal plan have the opportunity to have a culturally diverse dinner. The dinner will be highlighted with submitted recipes from Students, Faculty and Staff.
Faculty & Staff can pay at the door to get dinner to-go.
Content
Saturday, February 27, 5:30-6pm
Study. Develop. Engage. The Pitt Study Abroad team is here to help you find a study abroad or study away program that will benefit you academically, grow you professionally, and allow you to interact with your host communities in meaningful and responsible ways. And we hope you'll have some fun along the way. Your global experiences at the University of Pittsburgh are holistic in that they encompass and transform almost every aspect of your life. This presentation will provide resources to prepare you for various cultural experiences you'll encounter while away.
Zoom information will be provided via email.
Content
Saturday, February 27, 6-7pm
Join SAC for a web scavenger hunt surrounding different cultures! The top 3 winners can get a JBL waterproof speaker, Digital print camera, and Roku express remote! These prizes are not only entertaining and fun but can allow you to explore a multitude of cultures!
Zoom information will be provided via email.
Content
Saturday, February 27, 8-9pm
Test your geographical and linguistic knowledge with Kahoot trivia! 3 rounds means there's 3 chances to win some epic prizes: a Keurig, an Apple TV & Air pods!
Zoom information will be provided via email.
Content
As an apartment/suite/pod, sign-up to participate in a door decorating contest and show off your creative side! We will provide some basic supplies but feel free to add your own. Doors will be judged on Friday, February 26 and prizes will be awarded to those with the most culturally creative, compassionate and visually appealing door!
Sign-ups close Thursday, February 18.
This activity can be done on your own time but must be completed by 10AM on Friday, February 26. 
More information about the contest including how to pick the supplies up will be sent via email.
Public & Campus Community Events