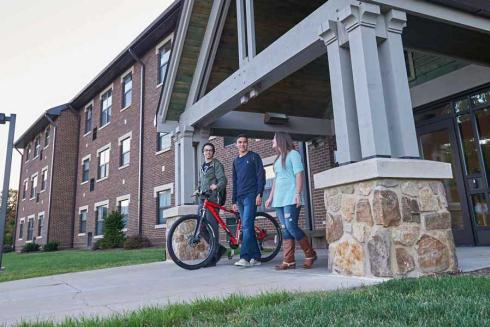 Why take summer classes?
A few reasons why
You can receive free housing this summer, double room accommodation, with no meal plan requirement, when you take three or more credits. This is a great way to stay on track to graduate in four years.
And if you need a few more reasons we just happen to know some:
Take upper-level courses to complete your degree.
Enroll in classes that fill quickly during the school year.
Pick up credits online.
Choose the session that works with your summer plans.
Wrap up general education requirements.
Summer Housing
You can receive free summer housing this summer!
All colleges -- not just Pitt-Bradford --  sophomores, juniors or seniors are eligible. (Sorry, entering freshmen and new transfer students are not eligible. But you will be next year.)
Housing on our campus is all apartment-style, and suites include kitchenettes, living rooms, wiring for cable TV and ample storage space.
Applications for interested students are available in the Office of Residential Life and Housing
If you have questions or need more information, you can contact the folks in that office at 814-362-7630.
Summer Tuition and Fees
Per-Credit billing
Students registered during the Summer Term and/or Summer Sessions will also be billed on a per-credit basis only, regardless of the number of credits taken.
Shorter semester and smaller classes make summer a great time to get ahead of the pack for graduation. Jim Pascarella '10