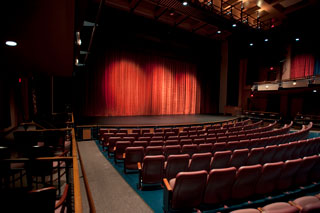 Bromeley Family Theater is a 500-seat theater that has cutting-edge lighting and sound. The most important aspect of the stage is that it is actually two different theaters. The main stage is a beautiful mid-size venue capable of being arranged in proscenium with an orchestra pit, proscenium with acting apron covering the pit, or as a modified thrust with seating arranged on three sides of a stage floor that extends far into the house.
When the proscenium retractable wall is closed, the other side features a "black box" or studio theater space – a completely flexible, open space that can be tailored specifically to the needs of each individual production.
Anyone using the studio theater arrangement will still be able to take advantage of all of the sophisticated equipment in the theater. Adjustable risers and portable chairs will comfortably seat 100-150 for a much more intimate theater experience.
Located behind the theater are dressing rooms for performers, a scene shop where theater sets and props can be built, a green room and a costume shop where stage attire can be melded, altered or created.