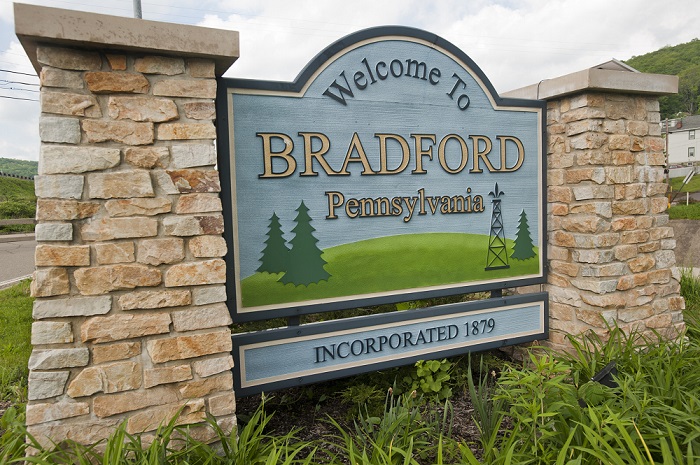 If you're looking for something to do in the region, (or maybe you need something to do with your family when they come to visit) you have many choices. The Bradford and surrounding area has many interesting and historical points of interest, including the Kinzua Bridge, and the Penn-Brad Oil Museum.
Take just a couple of steps off campus and you can hike, bike, hunt, fish, canoe, ride horses, etc. Or take part in events happening downtown or elsewhere in town.
Beyond Bradford, you'll find:
excellent skiing and snowboarding at Holiday Valley Ski Resort in Ellicottville, N.Y., a 45-minute drive to the north
canoeing, biking, picnicking and swimming in Allegany State Park in New York, just 10 minutes to the north
hiking, camping, fishing and swimming  in the Allegheny National Forest, just a few minutes south of campus
arts and cultural events along with prime shopping in Erie,  PA (a 90-minute drive west); Buffalo, NY, (90 minutes north); and Pittsburgh (3 1/2 hours to the south)
a large, metropolitan center in Toronto, Canada, 3 1/2 hours to the north  
Content
Allegheny Arms and Armor Museum -Allegheny Arms and Armor Museum in Smethport, PA preserves and maintains military vehicles, armor, aircraft, watercraft, weapons and associated militaria.
Allegheny National Forest - official site of the Allegheny National Forest. The forest offers many recreational opportunities, including boating, canoeing, camping, cross country skiing and hiking.
Allegheny National Forest Visitors Bureau - Learn about Pennsylvania's outdoor playground.
Allegany State Park (NY) - New York State's largest state park, just minutes from Bradford
Bradford Creative and Performing Arts Center - Nationally known acts come to Bradford each season.
Bradford Little Theatre - Locally produced, award winning productions hit the stage annually.
Buffalo Philharmonic Orchestra - See the BPO and other major recording artists at Kleinhan's Music Hall.
Buffalo Sabres Hockey - National Hockey League's Buffalo Sabres and the Key Bank Center are just 75 miles from Bradford, a short drive up U.S. Route 219. The arena annually attracts major touring artists and other performances.
Crook Farm - Visitors can enjoy a walk back in time as they visit the 19th century restored farm house, barn, one-room schoolhouse, herb garden, tool house, train depot and outbuildings located in Bradford.
Eldred World War II Museum - The Eldred World War II Museum is located in Eldred, PA, 85 miles south of Niagara Falls, NY. During World War II, Eldred was the site of a British and American munitions plant which produced eight million bombs, mortar shells and fuses.
Erie Otters - Ontario Hockey League team featuring many of the future stars of the NHL.
Flickerwood Wine Cellar - Open seven days a week, the winery in Kane, PA welcomes tours from groups and organizations, including bus tours.
Glendorn - A 1280 acre estate for public lodging while preserving the estate. The goal at Glendorn is to achieve a level of comfort, with an attendant sense of privacy and pause, take stock and renewal but also to have fun. We encourage fly fishing instruction, trap and skeet lessons, hiking or biking the trails, canoeing, or relaxing by the swimming pool or in front of the estate's 41 wood burning fireplaces. Reservations: 800-843-8568
Holiday Valley Ski Resort- Ski resort in Ellicottville, N.Y., also includes golfing, mountain biking, and fly fishing off-season.
Holgate Toy Company - World famous for its wooden toys designed by Jarvis Rockwell (brother of Norman Rockwell). The company was founded in 1929 and operates in Kane, PA.
Kinzua Dam- Kinzua Dam is at the heart of one of the largest and most popular outdoor recreation complexes in the northeastern United States. You can visit the reservoir and discover a diversity of year-round recreational opportunities.
Knox Kane Railroad - Knox Kane Railroad is a delightful passenger train trip from Marienville, PA to the Kinzua Bridge, with a stop in Kane to pick up passengers. Both open-air and closed cars transport passengers through deep woods and rural settings.
Penn-Brad Oil Museum - The Penn-Brad Oil Museum in Bradford contains an interesting collection of artifacts, momentos and antique field equipment from the oil industry and features a 72 foot tall wooden standard drilling rig used in developing the first billion dollar oil field.
Rock City Park - Climb gigantic rocks just minutes from Bradford.
Seneca Allegany Casino - Legal gaming just minutes from Bradford along with big-name concerts and shows
Shea's Performing Arts Center - located in Buffalo, N.Y., one of the northeast's finest arts venues.
Struther's Library Theatre - historic playhouse in Warren, Pa.
The Lucille Ball-Desi Arnaz Center - Museum dedicated to Lucy and Desi, in nearby Jamestown, N.Y., the hometown of Lucille Ball.
The Winery at Wilcox - Winery in Wilcox, Pa.
Warner Theater - Erie, Pa.'s leading fine arts venue.
Zippo/Case Visitor's Center - Since its opening in 1997, the Zippo/Case Visitors Center in Bradford has attracted thousands of visitors from over 120 countries around the world. Step through history and trace two beloved American icons, the Zippo lighter and Case knife.
Content
Assemblies of God  
Abundant Life Assembly of God Church, 140 Minard Run Road, 814-368-9997.
Baptist  
Bolivar Drive Baptist Church, 361 Bolivar Drive, 814-368-8521
First Baptist Church, 71 Congress Street, 814-368-6335
Faith Baptist Church, 440 Seaward Avenue, 814-368-7622
Hilltop Baptist Church, Gifford, Pa., 814-465-3336
Catholic  
St. Bernard Catholic Church, 95 East Corydon Street, 814-362-6825
St. Francis Catholic Church, 15 St. Francis Drive, 814-368-6959
Catholic (Latin Rite)  
Holy Family Catholic Church, 5 Walker Avenue, 814-368-9157
Christian Fellowship  
People's Christian Fellowship, 10 Harding Avenue, 814-368-4795
Missionary and Alliance  
Bradford Alliance Church, 240 Minard Run, 814-368-6612
Church of Christ  
Bradford Church of Christ, 121 Derrick Road, 814-368-9972
Episcopal  
Church of the Ascension, 26 Chautauqua Place, 814-368-8915
Evangelical  
Sawyer Evangelical Church, 777 South Kendall Avenue, 814-368-5359
Foursquare Gospel  
Foursquare Gospel Church, 50 Sullivan Road, 814-368-3605
Free Methodist  
First Free Methodist, 18 Boylston Street, 814-368-7381
Open Arms Community Church, 1289 E. Main St. 814-368-8846
Jehovah's Witness  
Kingdom Hall of Jehovah's Witnesses, Minard Run Road, 814-362-6725
Lutheran  
Emmanuel Lutheran Church, 152 Seaward Avenue, 814-362-4347
Grace Lutheran Church, 79 Mechanic Street, 814-362-3244
Mennonite  
Bradford Mennonite Church, 110 Chestnut Street, 814-362-2809
Nazarene  
Bradford Church of the Nazarene, 55 North Bennett Street, 814-368-8129
Presbyterian  
East End Presbyterian Church, 18 Welch Avenue, 814-368-8378
First Presbyterian Church, 54 East Corydon Street, 814-362-5569
Seventh-day Adventists  
Seventh-day Adventist Church of Derrick City, 522 Derrick Road, 814-362-2294
Synagogues  
Temple Beth El, 144-146 Clarence Street, 814-368-8204  
United Methodist  
Asbury United Methodist Church, 385 East Main Street, 814-368-7885
First United Methodist Church, 23 Chambers Street, 814-362-3584
Hill Memorial United Methodist Church, 44 Kennedy Street, 814-362-4375
Sawyer United Methodist Church, 692 South Kendall Avenue, 814-362-1995
West Branch United Methodist Church, 605 West Washington Street, 814-362-3053
Wesleyan  
First Wesleyan Church, Bishop & Boylston Street, 814-368-7865
Content
You will find several restaurants in and around town that serve delicious food. You can choose from Italian, Chinese or try one of the area's famous "beef on weck" sandwiches at many of these locations:
A Slice of the 80s -- 19 Congress St. -- 814-362-8080 
Monday - Thursday  11 am -  midnight 
Friday and Saturday 11 - 1 am 
Sunday 11 am - midnight
Beefeaters Restaurant - 27 Congress Street - 814-362-9717 
Monday through Saturday 11 a.m. -10 p.m. 
Closed Sundays 
Reservations for 10 or more 
USDA beef roasted & sliced 
Restored Historic Library, Victorian atmosphere with casual dining 
Lounge- Banquet seating up to 150 
Major credit cards accepted
Best Western - 100 Davis Street South - 814-362-4501 
Restaurant & Lounge
Bradford Brew Station - 104 Chestnut Street - 814-368-3137 
Wed-Fri 3:30pm-10pm 
Sat 11am-11:30pm 
Sun 11am-8pm 
Closed Mon-Tues
Chef's 117 - 117 Main St - 814-362-1170
Chu-Lee Gardens Restaurant  - 405 E. Main Street - 814-362-4700 
Open 11 a.m. serving until 9 p.m.
Derrick City Diner -- 563 Derrick Road -- 814-368-3975
Glendorn - 1000 Glendorn Drive 
Reservations: 800-843-8568
Great Wall -- 94 Main St. -- 814-368-8017 
Monday -- Sunday 11 am - 10 pm
John Williams European Pastry Shop  - 20 Mechanic Street - 814-362-6637 
6 a.m.- 3 p.m.
Kabob's at The Option House - 41 Main St. - 814-362-2622 
Monday - Saturday 11 am - 10 pm 
Closed Sunday
Lighthouse Family Restaurant -- 26 Bolivar Drive -- 814-368-5111 
Monday to Thursday 6 am to 8:30 pm 
Friday and Saturday 6 am to 9 pm 
Sunday 7 am to 8:30 pm 
Model T Inn - -555 Derrick Road -- 814-362-2947 
Tuesday to Sunday noon to 10 pm 
Monte's -- 491 E. Main St.
Players Downtown Sports Bar 12 Mechanic Street - 814-368-9789 
Monday - Wednesday 4 pm - 2 am 
Thursday - Friday 11 am - 2 am 
Saturday - Sunday Noon - 2 am
Pizza Napoli ~~ 147 West Washington St. 814-368-6331. 
Mon - Thu: 11 am - 9:30 pm 
Friday: 11 am - 10 pm 
Saturday: 11 am - 10 pm 
Check out our menu!
Rookie's Sports Bar and Restaurant -- 211 Main St. -- 814-368-9990
Monday 4 pm to midnight 
Tuesday to Thursday 11 am to midnight 
Friday 11 am to 2 am 
Saturday Noon to 2 am 
Sunday Noon to midnight 
The New City Line -- 244 W. Washington St.-- 814-368-4400
Togi's Family Restaurant -- 412 E. Main St.-- 814-368-6447 
Westline Inn, Inc. - Westline, PA - 814-778-5103 
(Westline Rd off 219 SOUTH) 
Open daily at Noon 
Food, Spirits, Lodging, Rustic setting! 
Gourmet food in a relaxing atmosphere 
Major credit cards accepted