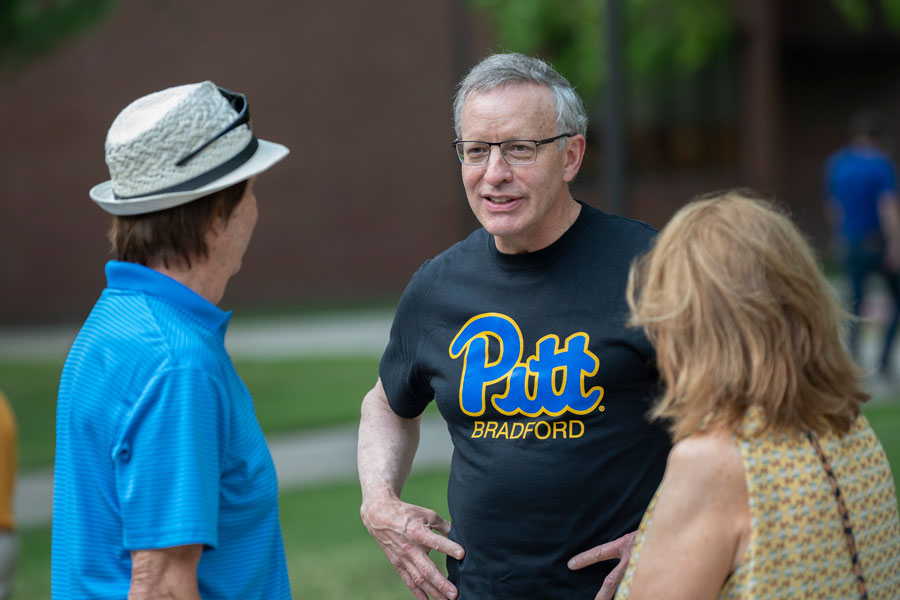 This story originally appeared in the winter 2023 issue of Portraits magazine.
By Kimberly Weinberg
In a walk across the Bromeley Quadrangle at Pitt-Bradford, Rick Esch's attention to detail is on full display. He notices and notes every small piece of trash, crack in the sidewalk or miniscule campus imperfection. He will follow up. It's a display of both his focus and
his ability to pay attention to many things at once.
At 62, he still has a charmingly boyish eagerness and intensity. Despite the businessperson's suit and classic short side-parted hair, glimpses of a motivated young man – the youngest of seven children, washing dishes at the DeSoto Holiday House on South Avenue, first-generation college student – are never far below the surface.
It's something his longtime friend, mentor and later colleague Dr. K. James Evans, retired vice president and dean of student affairs, noted when he spoke at the inauguration of Esch as president of Pitt-Bradford in September, citing his work ethic.
"For every position he has held, he was recruited. Why is that? Because his reputation preceded him, and others wanted him on their team," Evans said.
What was that reputation? Professionalism, hard work and an ability to get things done right that have Pitt people from the facilities crew to the provost agreeing he is the right man for the job.
What's the big deal about a hard-working, competent performer with 20 years' experience as a vice president being selected to lead an organization? Nothing, outside of academia. But college presidents are expected to have doctoral degrees and years in the classroom. So, although Esch has a Master of Business Administration from the University of Pittsburgh's Katz School of Business, his background to lead a university is unconventional.
It's a testament to Esch's capabilities that the faculty are among his biggest supporters. Dr. Michael Klausner, associate professor of sociology, is the longest-serving faculty member on the Bradford campus.
He served on the hiring committee that selected Esch as the university's first director of auxiliary services, overseeing dining services, the bookstore, mail center, vending and other areas. Previously, Esch had been the director of food service on campus with the hospitality company Sodexo.
"Everyone on the committee was so impressed with him," Klausner said. "He was quite visible when managing the food service." (Indeed, many remember Esch carving turkey, ham or roast beef at campus celebrations.)
Klausner, who teaches organizational behavior, praised Esch's interpersonal relationship style. "He makes people feel at ease and makes himself available. You don't feel uptight when you go talk to him."
Bill Kline '84, director of CTM Services, has worked at Pitt-Bradford since he graduated and often worked closely with Esch. "He can be the man in charge, but he's always spoken to me on an even level," he said. "It makes it easy to deal with him."
The lack of an academic background doesn't bother Klausner. "Being president really does not have a lot to do with expertise in an academic discipline. I think the MBA is much more relevant."
Dr. Matthew Kropf, associate professor of engineering technology and acting president of the Faculty Senate, backed up Klausner's assertions.
"Campus presidents are almost always former tenured faculty," he said. "That's why it's so astounding that Rick has the full support of the faculty."
As unusual as a university president without a doctoral degree is, so is the industry where Esch got his start – food service. It's something he's proud of and something that clearly shaped his management style.
He got his start on the traditional lowest rung, washing dishes. At 15, he would walk the 2 miles from Bradford Area High School each afternoon to his dishwashing job at the Holiday House.
Within weeks, when the DeSoto staff was shorthanded one night, Esch was put in a chef's uniform and sent out to carve roast beef on the buffet line, for which the DeSoto was known. He was a dependable worker and moved up in the kitchen.
At 17, he moved on to the Pennhills Club, a private country club, where he served as sous-chef for four years during his last two years of high school and first two years of college before taking a similar job at Caesar's Cove, an upscale restaurant in a former mansion in Bradford.
"Food service requires a lot of organizational and people skills," Esch said. "It's high pressure, especially when you're doing a la carte, but there's a satisfaction to being able to deliver under the gun."
He considered pursuing culinary school or studying to be a general manager, but when he started college at Pitt-Bradford, something else caught his interest – environmental science.
His love of the outdoors goes back to his earliest memories. He was born in Magnolia, Miss., and spent his very first years on a farm with cows and horses, plenty of brothers to play with, and ponds and creeks and woods to explore.
His father was a senior service oil engineer who troubleshooted what was wrong with heavy equipment, and his family had moved around to follow his father's work. Both of his parents were originally from Kansas, and Esch's mom also worked as a bookkeeper all through
her high school years and while raising seven children. Neither of his parents attended college.
When Esch was 6, his father's work at Kendall Refining brought the family to Bradford. The family had a house in nearby Derrick City, and Esch resumed playing in the woods with his brothers and other children. Hide-n-seek and softball were favorites.
Despite the environmental science degree he earned in 1983, Esch continued in the food service arena, steadily moving up. After graduating, he returned to Pennhills as the general manager.
The club had 480 members at the time, he said, and he reported directly to a board of directors. Those on the board mentored Esch, helping him learn the ins and outs of a multifaceted operation that required bidding projects and negotiating contracts; overseeing accounts receivable as well as bar, dining and kitchen staff; and keeping costs low and service high. It was where he met Howard Fesenmyer, who became an important supporter and Advisory Board member at Pitt-Bradford as well as a lifelong mentor to Esch.
He was working 12-hour days at Pennhills when he was recruited to become the head of dining services for Sodexho food services at Pitt-Bradford, a role he held for nine years before becoming Pitt-Bradford's director of auxiliary services.
Esch welcomed the shorter hours of college dining services. As a divorced father of two small children, Michael and Amelia, whom he saw six days a week, he had more time to spend with them outdoors, particularly at Allegany State Park in nearby Salamanca, N.Y.
As director of dining services, he first became involved with the larger community, starting with a citywide project that used volunteers to build a fantastical playground in Hanley Park from recycled tires and other materials. Esch organized and served chicken barbecue to dozens of volunteers working on the project.
Later, Dr. Richard McDowell, then-president of Pitt-Bradford, recommended Esch for the region's tourism board, which became the Allegheny National Forest Visitors Bureau.
Perhaps the community venture nearest to his heart is the Tuna Valley Trail Association, of which he remains president, and which has constructed nearly a dozen hiking, biking and walking trails in the Bradford area, including the very popular Richard E. McDowell Community Trail on campus, the Community Parks Trail leading from campus to downtown Bradford and through the city's parks, and the Marilla Bridges Trail, another favorite spot for Pitt-Bradford students and community members alike.
The trail association's blueprint hangs in Esch's office, perhaps as a reminder of what can be done even when many are skeptical, as they were when the association formed 25 years ago.
More recently, Esch marshaled all his organizational and people skills plus his own remarkable memory and ability to multi-task during the height of the COVID-19 pandemic, when he served for 18 months as the point person for anything remotely related to coronavirus safety on the Bradford and Titusville campuses. He met almost nonstop with officials from the University of Pittsburgh's COVID Mitigation Response Office and housing, health and safety officials in Pittsburgh, Bradford and Titusville.
He represented both regional campuses on the Chancellor's Resilience Steering Committee and collaborated with local, regional and state agencies, emergency management agencies and local health officials, all while leading meetings of several groups on campus – all remotely – to hash out the logistics of re-arranging residence hall rooms and classrooms; wiring new spaces for academic use; converting the dining hall to an all take-out operation; increasing air circulation in buildings; determining policies; arranging for COVID-19 testing, quarantine and in-depth cleaning; making sure masks were available; and putting up signs and stickers to explain all of it.
Klausner was impressed. "I was just amazed at the excellence of his job [during the pandemic]," Klausner said. "I think he did a magnificent job in addition to his regular duties."
In 2021, Esch's staff colleagues recognized his incredible pandemic performance by awarding him the Pitt-Bradford Staff Association's Staff Recognition Award.
Shortly after the staff recognized Esch, then-president Dr. Catherine Koverola resigned. Soon Esch had an unexpected call from Pitt Provost Dr. Ann Cudd, who is not only the university's chief academic officer but also oversees the regional campuses.
"The Chancellor and I would like you to be interim president," Esch recalls Cudd saying.
Esch's wife, Lisa '90, said that "he was gobsmacked." Esch accepted the position with the idea that a new president would begin in the summer of 2023.
During the pandemic, the campus had lost staff and faculty. As interim president, Esch began to restore morale, fundraising and momentum.
In the spring of 2022, Cudd began asking groups of campus constituents what they thought about Esch becoming permanent president. Faculty expressed concern about the process but had no reservations about Esch. Esch spent a day interviewing, but really, it had been a year-long process.
"I was so proud [when he was asked to be president]," his wife, Lisa, said, "but I also thought he was crazy." She noted that he had been thinking about retiring but felt that accepting was "the right thing to do."
"All the support that came flooding in was humbling," she said.
Esch's relationship with the Bradford and Pitt communities is one of mutual admiration.
"He loves everybody," Lisa Esch said. "There was no question in his mind [that he would do this]."
Certainly, Esch has a deep well of respect and admiration of others to draw on, and he does.
"My approach has always been that my staff doesn't work for me; they work with me," he said, adding that that is the way of a nonprofit board – something he learned long ago at the Pennhills Club and then alongside his mentors on Pitt-Bradford's Advisory Board.
It will take a team to do what needs to be done. Most small higher education institutions are seeing a decline in population, and that's true at Pitt-Bradford.
Esch sees that challenge as an opportunity to outperform expectations. His optimism is key to making that happen.
"He's always positive," said Leasa Maley, assistant director of auxiliary services and a 2003 Pitt-Bradford alumna who has worked with Esch for many years. "He always sees the glass three-quarters full. If Rick mentions something to you, you better put it on your back burner
because it is coming back to you."
Six months into his time as president, Esch continues to show that optimism, to follow up on the details of projects and problems large and small and to let his passion for the campus that nurtured him be his guide.
"I've always been a person who can get things done," he said of what gives him confidence. "When I say I'm optimistic about something, that means I think it can happen, and you can't do it yourself. I've always had a good network of people that I could call on."
Lisa Esch knows that her husband's network gives him confidence. "He wouldn't be able to do what he does without this community," she said. "Even when he comes home tired, he comes home exuberant because it was a good day."
--30--