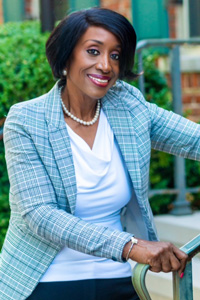 The University of Pittsburgh at Bradford has hired Dr. Pamela Thompson as its new assistant dean of academic success and advising, who will lead the effort to ensure students have the academic support they need to succeed.   
Thompson comes to Pitt-Bradford with 30 years of professional experience. That experience includes 17 years of designing and delivering academic support to students at Alabama A&M University, where she earned a bachelor's degree in sociology and master's degree in psychology-personnel administration. Additionally, she holds a doctorate in urban higher education from Jackson (Miss.) State University.   
In her new role, Thompson manages Pitt-Bradford's academic success, which includes its Academic Advising Center, Academic Coaching and Tutoring Center, and TRIO Student Support Services, a federally funded grant program designed to increase the chance of educational success in college for students from historically underrepresented groups. Additionally, she works closely with the university's writing and math centers. She will report directly to the university's vice president and dean of academic affairs.   
"As assistant dean of academic success and advising, Dr. Thompson is serving in a very important role on our campus" said Rick Esch, President of Pitt-Bradford. "She is very well suited for this position because of her impressive educational background and experience as well as her deep compassion for our students and desire to help them succeed."   
Born and raised in Alabama, Thompson and two of her sisters received guidance in preparing for and applying to college from another TRIO program for high school students called Upward Bound.   
"I'm so thankful that my mom found out about the TRIO Upward Bound program," she said. In fact, she and two of her older sisters all went on to earn doctoral degrees and all have worked in higher education. It was her younger sister who steered her into working in higher education.   
After graduating with her master's degree, Thompson was supervising the JOBS (Job Opportunity and Basic Skills) unit at the Department of Human Resources when her sister, who worked at Alabama A&M, suggested that she apply for a part-time job in the university's TRIO Upward Bound program.   
"I thought that this was an opportunity to continue helping people on a different level," she said. One of the first students she worked with at TRIO Upward Bound was the child of a client she had worked with in the food stamp program.   
In time, she became a full-time TRIO program specialist with Student Support Services and later director of both TRIO programs. Her most recent experiences at Alabama A&M included serving as the interim executive director of the Freshman Academy, which included Academic Advising, Service Learning and Title III Activity Director for the HBCU2-Enhancing Student Success and Engagement that incorporates academic advising, academic recovery, early alert systems, and the Tutorial Assistance Network.   
At Pitt-Bradford, she also will work closely with student affairs colleagues to identify students in need of academic support, counseling, career services or other help. "These are all our students," she said.
This coordinated work is more important than ever as current and future college students have had their academic careers and mental health affected by the COVID-19 pandemic.   
"We're serving a different type of student post-COVID," she said. "They have a lot of challenges, and they need a lot more support than pre-COVID. Programs like these help them navigate this college terrain. Nobody gets through this life without help. Help can come in many different forms and from many different places."   
Pitt-Bradford enrolls a large percentage of students who are the first in their families to attend college and/or are eligible to receive federal financial aid for whom navigating the complexities of higher education systems can be difficult.   
"This position speaks to everything I've done in my professional career and specifically everything I've done in higher ed," she said.
--30--