The Mathematics Center has moved online.
To make an appointment:
Make an appointment via Navigate Student
Directions: https://upb.pitt.edu/how-make-appointment
Prior to your appointment time, install Zoom from https://zoom.us/download
To sign in, select "Sign in with SSO"
Enter pitt.zoom.us
Sign in with your normal Pitt credentials
Your tutor will call you!
A camera and microphone are essential for success with online tutoring.
Make sure you are signed into Zoom prior to your appointment start time.
Please watch your email closely as your appointment time approaches. In the event of technical difficulties, we will use email for quick communication with you.
***All appointments are in EST.
Questions or Concerns? Contact: Hallie Kleiner, hlk16@pitt.edu
We are located in room 251 Hanley Library. The Math Center is open to all students enrolled in math courses at the University.
Our hours for tutoring:
Monday-Thursday: 8am-4pm
Friday: 8am-2pm
Some evening hours may also be available.
Our Staff:
Directory View
Adjunct Instructor of Mathematics
Division of Physical and Computational Sciences
Email: sem105@pitt.edu
Location: 251 Hanley Library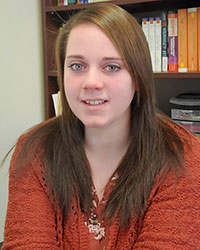 Director of Mathematics Center
Division of Physical and Computational Sciences
Email: hlk16@pitt.edu
Phone: 814-362-5120
Location: 251 Hanley Library