Make an appointment via Navigate Student: 
Directions: https://www.upb.pitt.edu/how-make-appointment 
Limited virtual hours are being offered for the Spring 2022 term and may be scheduled via Navigate Student. For additional assistance accessing these hours, contact the Math Center Director at hlk16@pitt.edu.
Our purpose is to offer free math tutoring to any student enrolled in a math course at UPB. Each student may have one hour of tutoring per subject per week. Students are encouraged to speak to the Director if they feel more time may benefit them. 
Our team consists of both faculty consultants and peer tutors. Peer tutors must have a minimum GPA of 3.0 and have received at least a B+ in the courses they tutor.
Our mission is to facilitate student success in math. Math competency is one of the University's requirements for graduation and an essential part of development of critical thinking skills. We help students not only grasp the concepts of math, but to also help to develop specific math study skills necessary to succeed in math courses. 
We understand that continued student success is about more than just grades. We strive to encourage critical thinking, resource referencing, time management, pattern recognition, and study skills to create confident and self-sufficient learners. 
Our services include: 
Homework 
Practice problems 
Exam prep 
Exam corrections 
Software utilization 
Calculator usage 
Take-home quiz or exam help, with instructor permission* 

 * Students are encouraged to bring take-home quizzes and exams to the center. Even without instructor permission to directly assist, we are able to pull similar material from the textbook and clarify essential concepts. 
Location and hours: 
251 Hanley Library 
Monday-Thursday 8am-4pm 
Friday 8am-2pm 
Some evening hours may be available.
 
We hope to see you there! 
Our Staff:
Directory View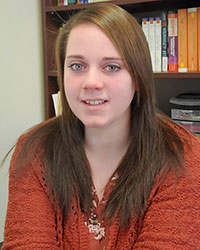 Director of Mathematics Center
Division of Physical and Computational Sciences
Email: hlk16@pitt.edu
Phone: 814-362-5120
Location: 251 Hanley Library